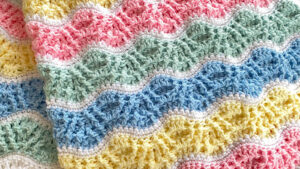 The Crochet Butterfly Kisses Baby Blanket can be changed to any size. A free pattern with a crochet diagram included.
My original design was back in 2009 where it was the Lazy Wave Baby Blanket. This is before me really understanding or doing texture in blankets. A simple repeat and I wondered it's now 2021, what texture could I add to this blanket with what I know today.
Changing sizes and crochet diagram are available in the free download.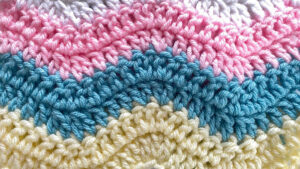 I experimented with front and back posts and I realized I had a small problem in the valleys. Jeanne calls my idea 'fancy' but it was a great solution. When the stitches are put together in the valley and I want texture, the two legs of the stitch are on the opposite sides of the blanket. This kept the stitch definition intact.
Design Considerations
There are two rows of white that are straight single crochet rows. Easy to remember, right!?
The colour stripes are made up of 4 rows. The first row is a setup row to get the texture to be ready. The other three rows of the colour are the texture itself.
I designed this so the textured row is exactly the same sequence for each of the 3 rows. So there are no new stitch sequences to learn. Simple.
I knew people would ask me, how to change the sizes of this blanket. So yes, I did the math and figured it out from a small baby blanket to a king-size bedspread that includes the drape over a mattress. I got you covered.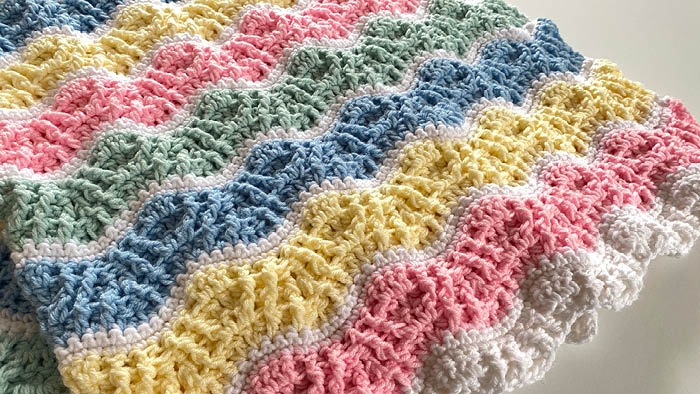 More Ideas
I have two other blankets from this year, 2021, to share with you that is also textured. I planned for a trio set of stitch textured blankets. Both are also using Caron One Pound yarns and you can colour them any way you wish.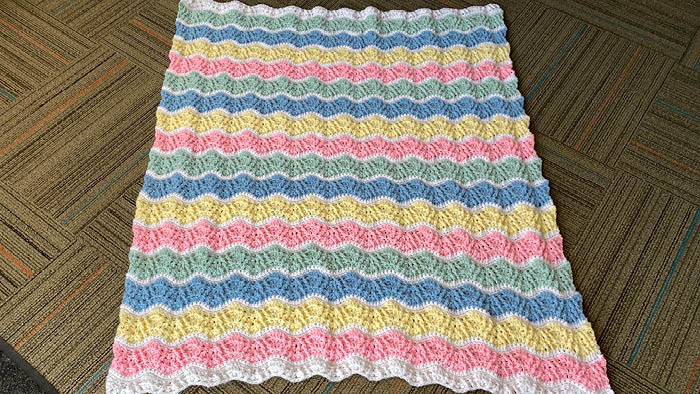 Tutorial
More Baby Blankets