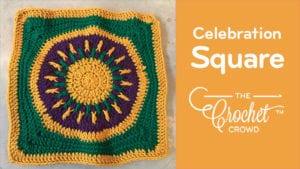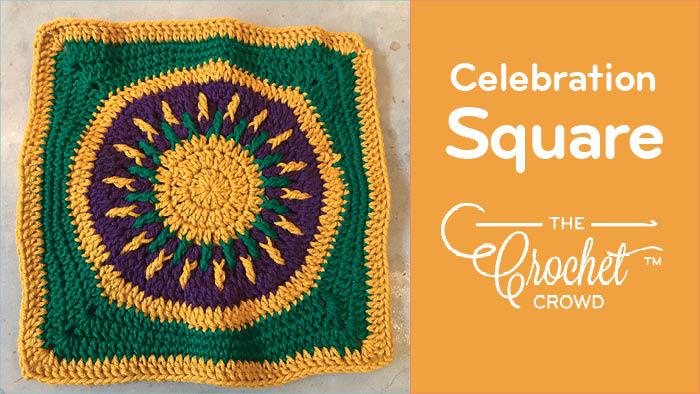 Crochet Celebration Square
The Crochet Celebration Square concept has been designed with Charity in mind. A square by Mikey himself.
A bursting square with strategic front post trebles to being a popping firework or sun burst. Playfully coloured with Mardi Gras colours.


Yellow means Power, Purple means Justice and Green is Faith.
Instructions for Crochet Cruisers
Crochet Cruisers, please make 9 of these squares.
Please use Caron One Pound Yarn or equivalent Yarn.
Sample size is 13" x 13". However, as there will be 100 crocheters on board, if you are a bit bigger or smaller in your squares, when using your 5.5 mm / I Hook, don't worry about it too much. We usually separate the squares by their sizes based on your tension. So you will have others crocheters that are loose, tight and just right. You may see differences of 1 - 2" above or below the recommended size.
You are encouraged to use any colours you wish. We want you to visualize a Mardi Gras float where the colours are so rich and effective. Be creative.
DO NOT USE THE FOLLOWING TYPES OF YARNS. Eye Lash or any animal blended wools like sheep, alpaca and etc. Use 100% Acrylic Yarns due to allergies.
Other Cruise Charity Projects We've Done
On the Ship
On opening night on the ship, volunteers will guide you to place your squares on a table that matches the gauge of your squares. There will be 3 sections.
You will keep 1 of your squares and place the other 8 on the table.
When called to do so, you will get up and go to your table and pick 8 squares that are random and don't belong to you. Let the colours of the squares guide your creativity.
You will also pick up community yarn to begin assembly and create an interesting border.
Making Extra Squares
While some crocheters love to make extra squares for maximum impact to the charity project. Please only make enough squares on what you can physically accomplish on board. No one wants to waste perfectly good squares if there are too many to physically put together. We have other projects and workshops on board.
So if you are creating 1 blanket, you only need to make 9 squares. If you planning on making more blankets, create multiples of 9 so you can exchange those out.
We know there may be some cruisers that prefer not to give up their squares for the exchange. While it's strongly encouraged, if this type of exchange isn't for you, it's not a big deal. Just remain seated while the rest of the cruisers are exchanging their squares to avoid congestion at the tables. The goal is to have each afghan crocheted by at least 8 other people to signify true crochet cruiser diversity.
Creating the final blanket isn't a race. We want you to be methodical and put your care into your blanket to make it your best ever.
It doesn't hurt my feelings if you prefer to work on Charity Blankets for your entire cruise and even hook them in other workshops. Use your time wisely and be sure to get the maximum out of the community sharing.
By the end of the cruise, you will see eye popping afghans.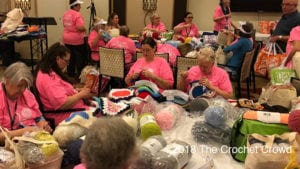 Inspire It, Create It... Keep It or Gift It
New for 2019 is the concept of Inspire It, Create It... Keep It or Gift It.
We've been doing charity projects on board cruise ships for 5 years. In keeping true to our goals of gifting to charity, we are seeing more interest in crocheters wanting permission to keep their finished afghans to take home with them. Some prefer to give their afghans to people they know back at home or to a local charity.
We've seen an increased number of our afghans finding their ways to First Responders, Hospitals, Shelters and Fire Departments over the past few years. These are being donated directly by the Crochet Cruisers who are taking them with them directly to where they need to go.
Our goal is to help charity, regardless of the affiliation to a specific charity. People in need, definitely need help indeed. We want to be that conduit to help where we can. Going forward, we are no longer calling our charity work "Project Linus" while on board. While some of these afghans may find their way to Project Linus, afghans based on our previous cruises, will find their way to those in need through a variety of charities.
Picture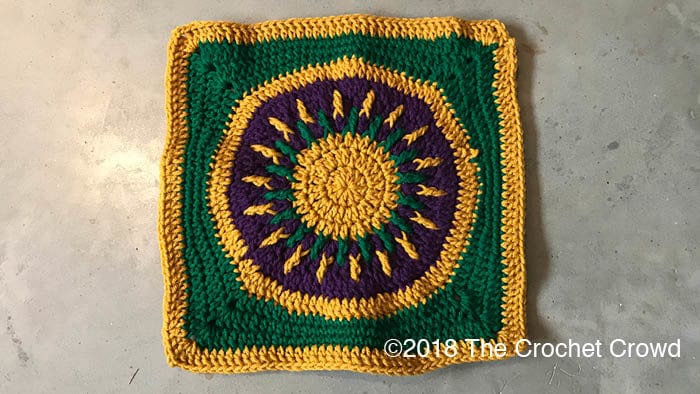 Right Handed Tutorial
Right Handed Tutorial
Left Handed Tutorial
Other Charity Ideas
For Crochet Cruisers for Mardi Gras, we are only doing the Crochet Celebration Square.