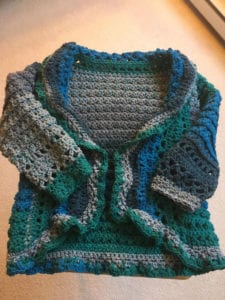 Crochet Cozy Ruffle Shrug
Hook up my Cozy Ruffle Shrug and keep yourself fashionably warm!
I originally designed this Cozy Ruffle Shrug for a coworker of mine for a gift.  She had seen me wear cardigan after cardigan that I made, and mentioned that she really liked them, and wished that she could wear something like it.  When I asked her why she couldn't, she said that she could never wear anything like it as she was so petite.  She said that she would look like a child in dress-up play with everything looking too big on her.  That planted the thought in me that I wanted to make her something that she could wear, something that she would like and would look good on her.  Over the next couple of weeks, I took mental notes about what she liked based on the comments she would make about different cardigans I wore.
She liked ruffles, but not too many and not too big.
She liked her sweaters to not be longer than her waist.
She didn't like her sleeves too long.
She liked a shorter front than back.
She liked rounded vs square.
She liked blues and greens.
With her likes floating around in my head, I sat down to create her very own "custom" shrug, and the Cozy Ruffle Shrug is the result.
After I finished making it in the XS she needed, I did the math so you can make it for any size from XS to 5X.   I used Caron Big Cakes in Shadowberry.  I really like the feel of this yarn, and with the different colourways available, it's easy to find one you like.  Each one I try becomes my new favourite combination 🙂
I hope you enjoy it as much as I did making it — and as much as my coworker did receiving it!  Until you see me next time here on The Crochet Crowd, you can find me on Ravelry as The Crochet Ninja.