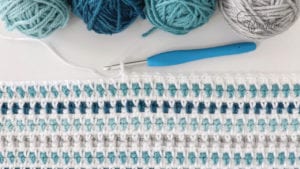 Introducing Tiffany from Daisy Farm Crafts
Tiffany & Hannah from Daisy Farm Crafts is crochet designers whom I have never met. I know their work is stellar through observations on her photographic and video tutorial presentations on her website and Daisy Farm Crafts YouTube Channel. They have has over 125,000 members on YouTube and that speaks volumes to the level of trust yarn lovers have in her.
I also know Tiffany & Hannah's work as they are Stitch Ambassadors of Yarnspirations. It's a real privilege to teach on behalf of a manufacturer.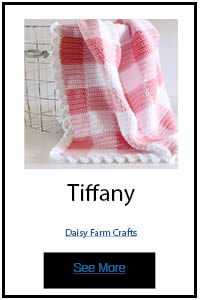 Team Work
Like Daniel and I are a team, Tiffany and Hannah are also a team. They work together and crocheters, like you and I, get to benefit from their ideas they have. Their designs range from free to paid designs. At this time, you can clearly see that gingham/plaid is really hot on their website. In fact, it's a global trend and they are doing amazing work with it.
Their attention to branding for beautiful photography and filming, backed by a website that has very little ads to distract you from the creativity they have, they are definitely worthy of hitting the crochet designer list for 2020.
You can find their paid designs at Daisy Farm Crafts Etsy. You can also subscribe to be notified of new free crochet patterns and new blog posts at their Subscription Page too.
57 Featured Designers
The list is in alphabetical order. Some designers have their own YouTube Channels, Ravelry and ETSY shops. Discover more about each designer as each link goes directly to their websites/pattern curation page.