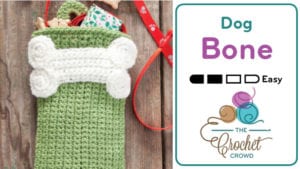 Crochet Dog Bone
This is a crochet dog bone applique that can be sewn onto anything you desire. The done bone is really simple and consists of 5 separate components but it does look like one when it's put together.
The applique is used on the Dog Paw Christmas Stocking but I think it can be used in many other places including dog sweaters and much more.


Essentially, there is a rectangular shape combined with 4 circles to form the bone.
Get the Free Pattern, it's called Dog Paws Christmas Stocking.
Pattern compliment of Red Heart Yarn
Video Tutorial (Right and Left)