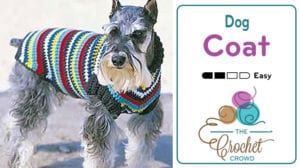 Crochet Dog Coat
Learn how to crochet this amazing Crochet Dog Coat for 4 sizes of dogs. Using everyday yarn like Bernat Super Value, you can create a simple dog coat to give your dog some added style.
The coat comes in the pattern for 4 sizes. Sized small to extra large. I had Jeanne research the dog sizes and this is what it comes up as:
Small – Chihuahua or Yorkie Size
Medium – Pug or Terrier Size
Large – Beagle or Collie Size
X-Large – Greyhound or Labrador Size


In the tutorial, I show you how to attack this pattern in reading the pattern but also show you some great tips too. I substituted using Bernat Maker Fashion. I used 1 ball of each colour for the small size. You will need more yarn to do other sizes. The yarn requirements are in the pattern for the Bernat Super Value.
Without striping like the pattern asks for, you can make it fairly quickly without a whole like of loose ends. Of course, if you want extra styling, take the time to do so.
Tutorial