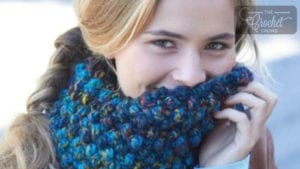 Crochet Faux Popcorn Cowl
Need a Super Quick Cowl in a Jiff? Try this faux popcorn cowl using really chunky yarn and a big crochet hook.
Some people don't enjoy crochet popcorn stitches so some of us, *clears throat*, likes to fake it when we can. If you enjoy the look but don't want the fuss, this cowl is up your alley!
The faux popcorn is based on single crochet and trebles working every other stitch. The single crochets force the trebles to squat down to create the popcorn look. In the next round above, you place single crochets into the tops of the trebles and trebles into the single crochets. This causes the trebles to squat again but it forces the stitches to honeycomb together naturally. It's pretty much an easy pattern without having to blow too many brain cells to think your way through this pattern.
Tutorial