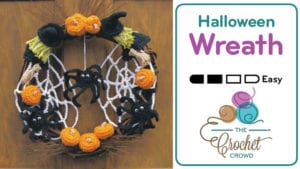 Crochet Halloween Wreath
Homemade made fun for Halloween, with a Crochet Halloween Wreath.
From the front door and a perfect reusable wreath from year after year. I love how the witches circle the wreath. For myself, I have made the witches and pumpkins. we have tutorials for the two sizes of pumpkins. You will find the pumpkins in our Halloween Tutorial Collection.


Halloween Tutorials
More Halloween Pattern Ideas
More Wreath Pattern Ideas