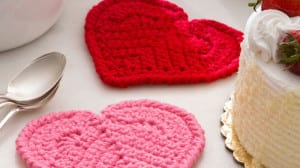 Crochet Heart Coasters
If you love crochet hearts, you will definitely like this each to follow crochet heart pattern.
The heart is crocheted together like a square at first and then the two tops of the hearts are formed. It's finished off with Crab Stitching which is also known as reverse single crochet.
This is an older video of The Crochet Crowd. It is only available in right hand as it was filmed prior to my commitment to left handers.
Pattern compliments of Red Heart
Video Tutorial