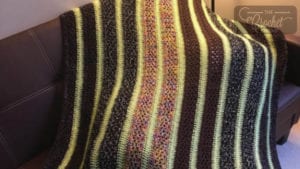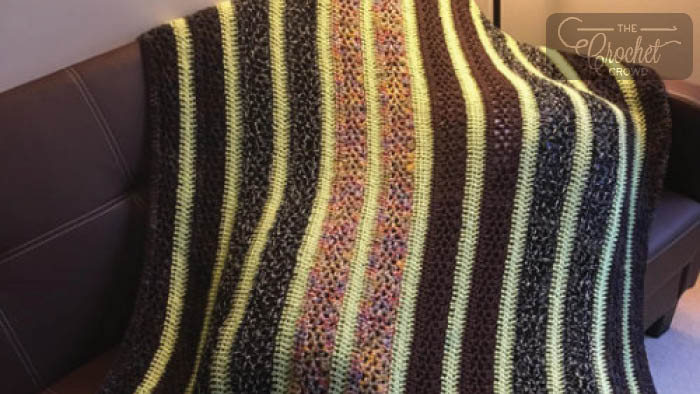 Crochet Lovely Leftovers Blanket
Crochet my Lovely Leftovers Blanket and use up some of your stashes!  When I purchase yarn, I quite often am not sure what I am going to crochet with it.  To make sure that I will have enough, I often purchase 10 skeins of whatever particular colour catches my eye.  I will usually have 1 or 2 leftover skeins after I have finished a project.  I set them aside, not sure what to do with them.  With this blanket, you can use up some of your leftover skeins in a lovely blanket!
This blanket used just over 38 ounces/1100 grams (approximately 11 skeins) of number 4 worsted weight yarn and measures 60 inches by 48 inches.  I used the main colour (Fern Green) with 2 rows of double crochet separating different coloured 4-row panels.
2 of the 4-row panels use approximately 1 – 3.5 oz (100 g) skein, and approximately 5 rows of the main colour use 1 skein (3.5 oz/100g).  I crocheted this blanket lengthwise, so if you want your blanket to be wider, do another repeat or two.  If you want it to be shorter or longer, you would adjust your starting chain.  The starting count for this blanket is multiples of 3 + 2.
Lovely Leftovers Blanket
Designed by Donna Bondy, The Crochet Ninja
6 mm (size J) hook
11 various leftover skeins (just over 38 ounces) of 4 weight yarn
Chain 3 at the beginning of each round counts as a dc.
V stitch:  dc ch 2 dc in same stitch
—
Chain 200, dc in 4th chain from hook
Dc in each st, turn
Ch 3, sk next st, V stitch in next st (sk 2 dc, V st in next) rep ( ) across to last 2 stitches, sk next st, dc in last stitch, turn
Ch 3, (V stitch in ch 2 of V stitch) rep ( ) across, dc in last st, turn
Ch 3, (3 dc in ch 2 of V stitch) rep ( ) across, dc in last st, turn. Change colour.
Ch 3, dc in each st across, turn.
rep 5, change colour
rep 5
Repeat rows 2 – 7 ten more times (or until your desired width is reached)
Repeat rows 2 – 4, fasten off.
I hope you enjoy this as much I did!  Until you see me next time here on The Crochet Crowd, you can find me on Ravelry as The Crochet Ninja.