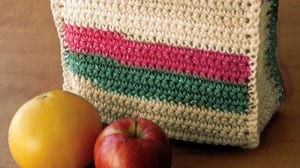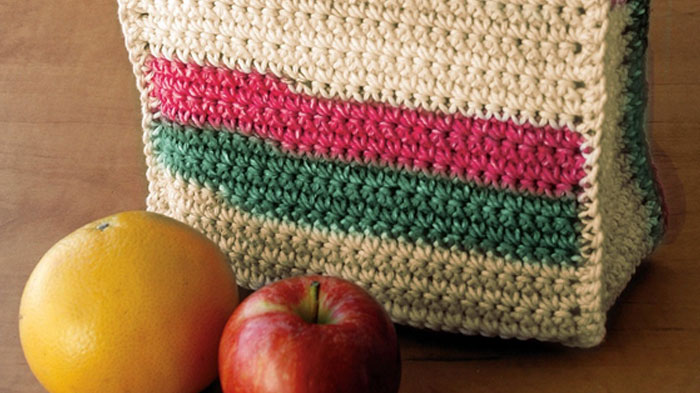 Crochet Lunch Bag or Mini Bag
I don't care what anyone says to me, they just don't make things like they used to. Sometimes, we just need to pull out our crochet hooks and do it ourselves!


The Crochet Lunch Bag is a decent size bag measuring 9" wide by 12" tall and 3.5" thick.
If I were to do this for a child or even for myself for that matter, I would choose the right colour of Lily Sugar'n Cream Cotton that best suits my own personality. Kids who get involved in the creation process are more than likely to use this.
For the kid version, consider adding flower or applique motifs to the exterior of the bag.
Finally, if I were to change one thing on the bag, I would not use the grommets. I wouldn't use them because I wouldn't know where to find them. I would get creative and attach the handles in a different way. That's just me being partially lazy and wanting to simplify the project.
You could also use this pattern to make mini gift bags. Fabulous and reusable using natural fibres. A great way of preserving the environment generally. No plastic or paper bags for lunch! Awesome... Reuseable Gift Bag! Even Better!
The bag is just simple panels all done in single crochet. You couldn't ask for a simpler project. Get the free pattern, it's called the Crochet Lunch Bag.
Tutorial
More Bag Ideas