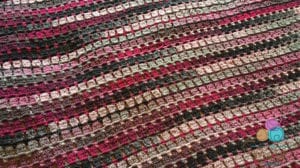 Crochet Mosaic Tile Afghan Pattern
Before you get excited about this version of this pattern, you should know that the yarn I have used is discontinued. I know, spank me until the cows come home for doing such things.
Last year, Yarnspirations discontinued Bernat Mosaic Yarn. It was being sold at the Spinrite Factory Outlet at discount rates. During a live visit, women were doing the 'Black Friday' thing in the bin. It was downright dirty. Though I had seen it already before the store opened, I didn't think much of it. I don't know if it was primal or possible estrogen levels in me that suddenly peaked up. Seeing the women going crazy and the staff bringing out boxes and boxes and not being able to keep up. I threw down my crochet project on the table and rolled up the sleeves and pushed my way into the crowd.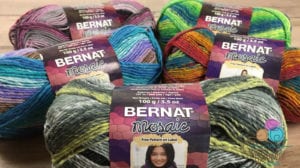 I grabbed a huge bag and started ramming the balls into the bag without even counting. It was insanity. I was yarn crazy. In seeing others trying to hoard this yarn, I figured I better dive in and start buying it up to prevent others from getting it all. Does this make me a bad person or just frightfully honest? I don't know what came over me.
With my hair a mess and hands coming in all directions to get the balls, my eyes were on the prize selecting certain colours of this yarn. I was evil. I was buying yarn that I had no desire to buy before the store opened but because I have seen others going crazy for it, my 'patience and reason' switch flipped off and it was neanderthal tendencies of grunting and being greedy. Mine… Mine… Mine…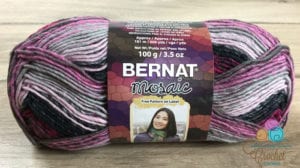 I ended up buying a ton of this stuff but for the price, I know I scored and was quite proud of myself even though I had stooped to lows of my personality to get it.
My afghan is using 12 balls of Bernat Mosaic called Pink Poodle. In the years on the market, I never saw this colour shade until it was discontinued. I have done other projects in the other colour shades. The slow transitions of this yarn made this one of my ultimate favourites of all time. It was reasonably priced at $6 – 7 CDN per ball. Due to the making of this ball, the yardage and more, this was extremely reasonably priced.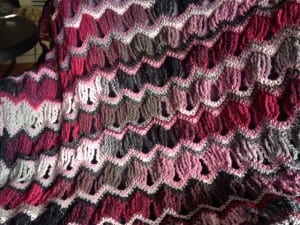 Unfortunately today, I am running out of this yarn. I am treating it like gold. I'm saving it for the perfect project. I know I am not alone in this thought. So while I might have lost my marbles when I bought it, this is not a yarn I waste. I don't even throughout any piece of this yarn. I am holding onto the little I have left
I used some of this yarn for my Vintage Fan Ripple last year. I know this colourway doesn't suit everyone's needs but I love it and that's what matters. You can get the free pattern and tutorial here.


Written Instructions
Blanket measures 48″ wide by 60″ long.
12 balls of Bernat Mosaic
Size H or 5 mm Crochet Hook
Do ch 177 instead of the pattern.
Follow the directions on the original pattern for the remaining of this project. I improvised the starting based on this yarn. There is also a crochet diagram to follow for this pattern.
More Afghan Pattern Ideas