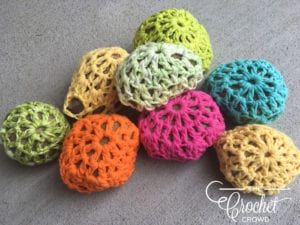 From Painted Rocks to Crochet Rocks - Let's Join the Movement!
Sometimes I must be living under a rock.  I just found out that there has been a fun and crafty movement spreading across the county. Painted Rocks.
I was invited to join a local Facebook group in my hometown called Hebron IN Rocks.  I had no idea what this was about, but I do enjoy being involved in the community so I had to check it out.  What I have discovered is that these Facebook groups have been popping up all across the county.  I checked and there are 10 community groups within 25 miles of me.
So what are they, you ask?  After asking a lot of questions and a bit of googling, here is what I can tell you.  This movement appears to have started in Port Angeles, Washington.  Here is the info directly from their group:
We are painting rocks to hide around Port Angeles to brighten people's day. Join us! On the back of your art work please write: "Port Angeles Rocks" with a Facebook symbol! You can also write" re-hide me". If a rock screams at you, by all means keep it forever. The goal is to get lots of people painting. This page is very active, if it bothers you adjust the settings and alerts. Have fun!
If you would like to create a "... Rocks" Page for your town please do so! Check to see that there is not one already, we only want one per town. Just create the page and name it "(insert town name here) Rocks". Try to stick to cities and towns and do not abbreviate so that no duplicate pages are created. We don't need a bunch of overlap with counties or larger areas.
Do a quick Facebook search for your town's name and the word Rocks and see if your town has a group already.  Check nearby towns too.  Actually, take a look at Google Images or Pinterest and the colors will inspire you.  In fact, Michaels Store has a complete tutorial on Painted Sentiment Rocks.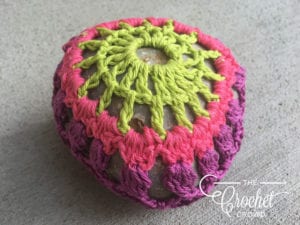 Crocheted Rocks
After joining and finding out what all this was about, I asked the group I joined if they would mind if I used crochet to decorate my rocks instead of paint.  It is how I express my creativity and reflexes who I am.  The answer was "of course!"  That's all it took for me to get busy.
I was inspired by a rock that was crocheted by Mikey last year on the Alaskan Crochet Cruise, which somehow landed in my suitcase.  Shhh... don't tell him, but I do treasure this one. 🙂
I live in a rural area, right next to a soybean field.  I walked the edge and quickly found a few nice rocks to use.  I know farmers don't mind because rocks can damage the equipment.  I washed them and gathered up several partial balls of Lily Sugar 'n Cream yarn.  Since the rocks are small, I used up scraps from my stash.  I didn't use a pattern.  I started with a circle of double crochet, v-stitches to grow, then dc2tog to decrease to close around the underside.
I'm pretty excited with my rocks and cannot wait to go spread some love and happiness in my own special way.  I'll be sharing on my Instagram too, so be sure to watch #thecrochetcrowd #crochetedrocks as I'll tag them when I put them in my community.  In fact, I'd love to see other crocheters join the movement with me.  If you do, be sure to #hashtag your photos so I can see them too.