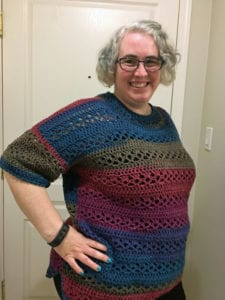 Crochet Plum Pretty Top
Hook up my Plum Pretty Top and look stylish while keeping warm!
This pattern is based off Jeanne Steinhilber's Nightberry Shawl pattern.  I'm more of a top/sweater person, so I asked Jeanne if I could design a top based on her pattern.  I was very happy when she said yes!
I think it is fair to say that I'm obsessed with any and all Caron Cakes, but I have to admit that the Big Cakes are my favourite.  I love the feel of the yarn and how it looks crocheted -- especially in clothing.  I love how it drapes and all the fabulous colourways.  I especially love that it's 100% acrylic and that there is SO. MUCH. YARN. in one cake!  In fact, there is so much yarn in a Big Cake, that the majority of the sizes only require 2 cakes!
My Plum Pretty Top pattern is written for size XL/2X, but I have included the adaptations you would need to do for sizes XS-5X.
I hope you enjoy this as much as I did!  Until you see me here next on The Crochet Crowd, you can find me on Ravelry as The Crochet Ninja.