Crochet Quick Preemie Blanket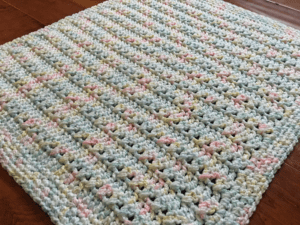 I enjoy crocheting preemie blankets to donate to NICU units for the tiny babies.  It's a way to finish a project quickly, and feel good to know that the blanket will wrap a new baby in warmth and love.  This one took me about 3 hours to complete.
Crochet Easy Preemie Blanket pattern.


Finished size is 24" square.
You can easily make this into any size blanket by just keeping an even number of starting stitches.
Quick Preemie Blanket
by Jeanne Steinhilber
1 - ½ balls Bernat Happy Holidays - Twinkly White
1 ball Bernat Baby Coordinates - Baby
Crochet Hook 6mm or Size J
Using both strands from the Bernat Happy Holiday and Bernat Baby Coordinates, crochet using them both as if you are double stranding. Here's a video on how to use two strands together.
Ch 52, (RS) dc into the 4th ch from hook and each ch across.  Turn.  - 50 dc
Ch 3, (counts as dc) *skip next dc, dc into the next, then dc into the skipped dc.  Repeat * across to last st, dc in turning ch.  Turn.
Ch 3, dc in each st across.  Turn.
Repeat rows 2 and 3, ending with a row 3 when square, but do not turn.
Border - Keep blanket RS facing you.
Work 2 sc in the end of each row and 3 sc in each corner.  Sl st to first sc.
Ch 1, sc in first st, *ch 1, skip next st, sc in next st. Repeat * around.  Sl st to first sc.
Sl st to first ch-1 space, ch 1, sc in same space, *ch 1, skip sc, sc in ch-1.  Repeat * around.  Sl st to first sc.
Repeat round 3 twice.  Finish off.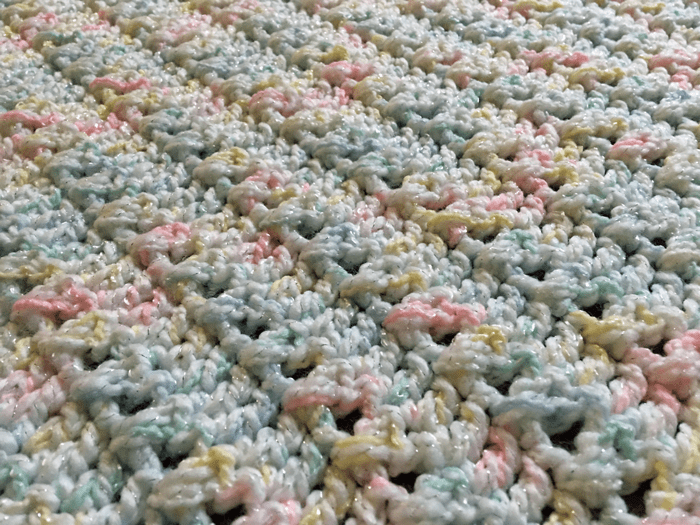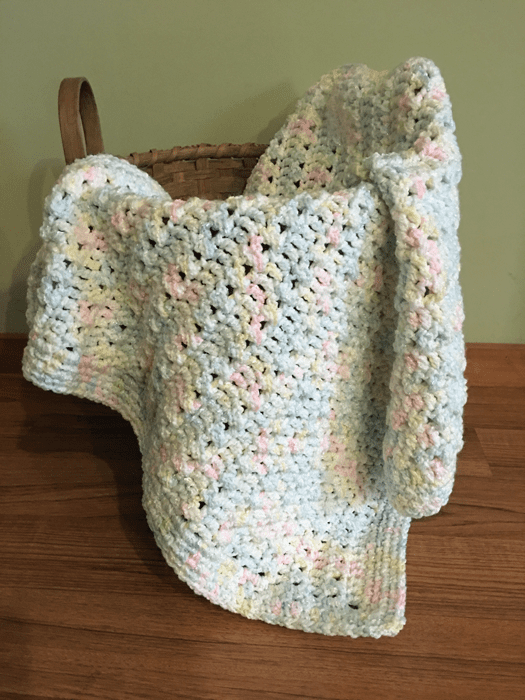 Designs by Jeanne
Save
Save
Save
Save
Save
Save
Save
Save
Save