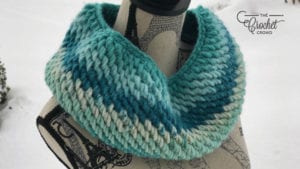 Crochet Reversible Cowl
Using 1 Ball of Caron Chunky Cakes, colour is called Blue Moon. Diva Dan created the Crochet Reversible Cowl that has a really unique look. He's pretty proud of the design.
You are actually looking at the wrong side of the project. Yeppers, that's why it's called reversible. The backside of this concept has a really unique look and using Caron Chunky Cakes, it's a winner.


---
Crochet Reversible Cowl
Easy, Daniel Zondervan © 2017 The Crochet Crowd
Materials
1 Ball - Caron Chunky Cakes
8 mm / L Hook
Abbreviations
Beg = Begin
Ch = Chain
Rep = Repeat
Rsc = Reverse Single Crochet
Sl St = Slip Stitch
Sp = Space
Instructions
The cowl is shown as the reverse side. Meaning, it's the wrong side of the project that faces out. The wrong side has the look that you see. The opposite side resembles the moss stitch. This was designed by Daniel. The cowl has a severe elastic to it. It's pretty neat overall. The cowl is worked as a continuous round after Round 1. Reverse single crochet is used for the duration of the cowl from round 2 to the end. The cowl is 15" diameter x 7". The cowl bulges outward in the middle due to the stitch Instructions
Ch 50. Join with beg ch to form a ring. Do not twist chain.
1st rnd: Ch 1, 1 sc in each st around. Join with a sl st to beg sc.
2nd rnd: Ch 2 (counts as a reverse sc + 1), *rsc in the next st, ch 1. Repeat * around. Do not slip st to beg ch-2 as you are working in a continuous round.
Continuing onward, sc in *ch-1 space, ch 1. Repeat * until you get to desired thickness length.
Leave enough yarn from the ball. You will now single crochet regularly in the ch-1 spaces around for the final round. Fasten off and weave in ends.


Preview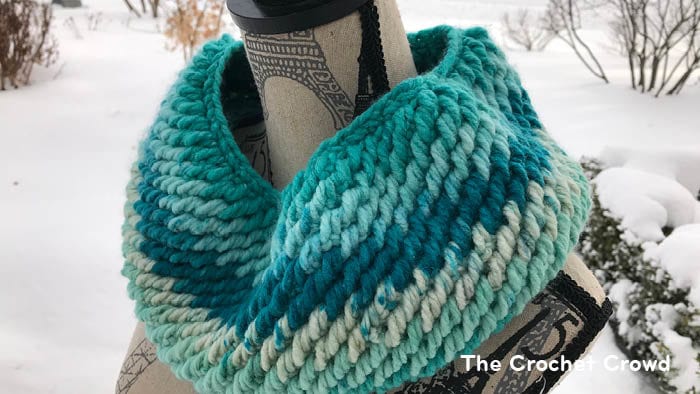 More Cowls to Enjoy