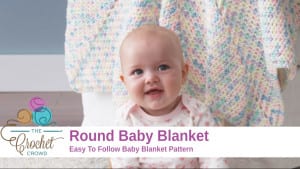 Crochet From The Middle Baby Blanket
This easy to crochet baby blanket is called From the Middle Baby Blanket. This afghan is a round afghan with 10 points in the perimeter.
The blanket has 6 revolutions in the middle to grow the afghan out so that the 10 points can then begin and sit flat when the afghan is done. It's a super easy pattern and once you get to Round 7, it's just a matter of repeating what you have learned for every round until you get to the full size you want. So whether you choose a baby size or full bedspread, it's up to you.


Tutorial
More Baby Blanket Pattern Ideas