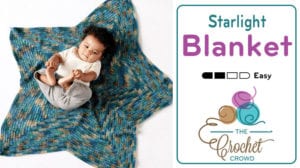 Crochet Starlight Baby Blanket
Introducing the Starlight Baby Blanket featuring a brand new yarn line called Bernat Softee Baby Colors.
This new yarn line called Bernat Softee Baby Colours is a lightweight, level 3 yarn. The yarn, being lightweight, level 3, means the project will not be so heavy or thick. The stitchwork is close together using a US 7 or 4.5 mm crochet hook. The playful nature of the colour changes in this yarn makes it interesting and almost unpredictable on the outcome due to the colour transitions. For me personally, I enjoy yarn like this - A LOT!
In this pattern, all I need to do is to teach you how to get to Round 3 and the rest of the start will grow. As it starts out, the points won't be like the picture but as the afghan gets bigger, the points grow more defined. It's one of the easiest starts I have seen in a crochet star blanket for the ease of establishing the points.
The free pattern includes written instructions, as well as a crochet diagram to follow if you want it. Of course, my video tutorial is below to guide you through the beginning steps to understand the pattern and be able to get one started for yourself.


Video Tutorial
Baby Blanket Patterns