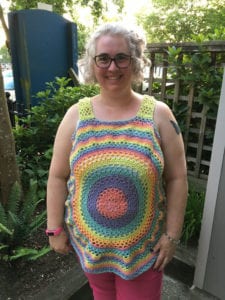 Crochet Summer Sorbet Top
Crochet my Summer Sorbet Top and stay cool all summer!  For this top, and for the V neck version, I used 2 of my favourite cotton blend yarns:  Caron Cotton Cakes, and Bernat Softee Baby Cotton.  Both are a 60/40 blend of cotton and acrylic, and both are wonderful with which to work.  The Caron Cotton Cakes (4 weight) is a yarn that is exclusive to Michaels stores, and the Bernat Softee Baby Cotton (3 weight) is a yarn exclusive to Joann stores.  Because both are a cotton blend, they wear well, drape well, and wash well -- everything you want from a yarn you use for a garment!
While I was crocheting the Summer Sorbet Top, I had people say "Gee, I wish you would design some V neck tops!"  So, after I finished the top, I thought about how I could use the same pattern and make a V neck instead of my regular neck, and came up with the Summer Sorbet V Top!
So, whether you like V necks or U necks, Michaels or Joann, 4 weight yarn or 3 weight yarn, this pattern has you covered.  Now, here's the best part:  I have written the pattern so that:  a) gauge is not important; b) you can use whatever yarn you like; c) you can use whatever hook you like; and, d) you can make it for ANY size.  All you need is one measurement (bust/chest measurement) and 2 math calculations (bust/chest measurement divided by 2, and bust/chest measurement divided by 4), so you can make "mommy and daughter" outfits if you want!  (Note that if you are making a Summer Sorbet Top for someone smaller than a 24" chest measurement, you will need to do the straps in a solid single crochet as you won't have enough stitches to do the pattern for the straps.)
I hope you enjoy this pattern as much as I did.  Until you see me next time here on The Crochet Crowd, you can find me on Ravelry as The Crochet Ninja.