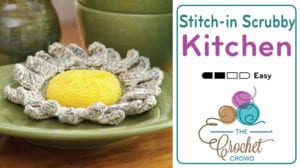 Crochet Sunshine Scrubby
Learn to crochet around a plastic scrubber in order to make a Sunshine Scrubby using your crochet hook and cotton yarn.
In this project, we will start off with a plastic scrubber. I picked up a package of 6 scrubbers at the dollar store for $1.25 CDN. They are pretty inexpensive. Using cotton yarn, I crocheted around the scrubber to start the stitchwork and then continued.


The project is crocheted directly to the scrubby to make it a one piece unit. These are not difficult to make and are usually seen in flea markets, craft shows and even fundraisers.
Follow along with my tutorial below for some advice and how to do this complete pattern.
If you are going to wash these in the washing machine, be sure NOT TO THROW IN DRYER as the plastic scrubby will melt and cause you a big mess to clean up.
Video Tutorial