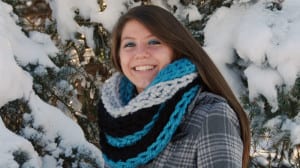 Try this Crochet Cowl
This cowl is really interesting and definitely a statement to wear this winter. Mega Bulky Yarn are in demand this fall. Many new crocheters and knitters love this yarn as projects can be doing really quickly.
The stitching is unusual as the half double crochets are in the middle bar. Mikey will be doing a tutorial soon on this project. It didn't take me long to do and it looks pretty cool too.

If you are looking for an affordable cowl idea for gift giving or even just to treat yourself. You may want to get the free pattern and take a closer look.