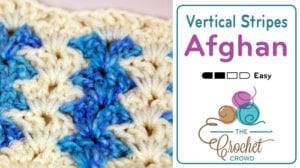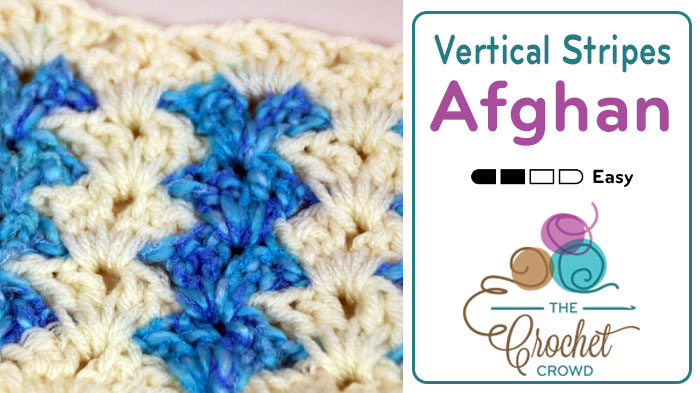 Crochet Vertical Stripes Blanket
Learn how to do vertical stripes while crocheting in horizontal rows without having to break into a sweat. This pattern is from the newest pattern called Bright & Easy Blanket.
This pattern is versatile, meaning you can switch the hook size and yarn - as long as they complement each other, and you can make afghans of any size.
The multiple counts for this particular stitch are 8 + 4. So chain in sets of 8 and at the end of the chain, add 4.
There is an optical illusion happening in this particular stitch. Let me explain what you are looking at below.


Illustration
If you look at the picture below, you will notice the white rows and blue rows are not the same rows. They are nesting within each other with 2 double crochets, chain 1, 2 double crochet shells. Technically, the white and blue rows are all the way across but due to the type of stitch this is, the stitches cause the colours to break up because the stitchwork is covering the rows to break up the colourway.
You will see in the tutorial below, how this stitch works. You could have a lot of fun with this concept with changing colours as often as you wish.
If this were mine. I could consider making one colour like the white and then in the blue area, change that yarn often. Visualize a transitioning colour wheel or rainbow or shades of colours. People would be so amazed at your skills and yet it's easy to get.
The sky is the limit.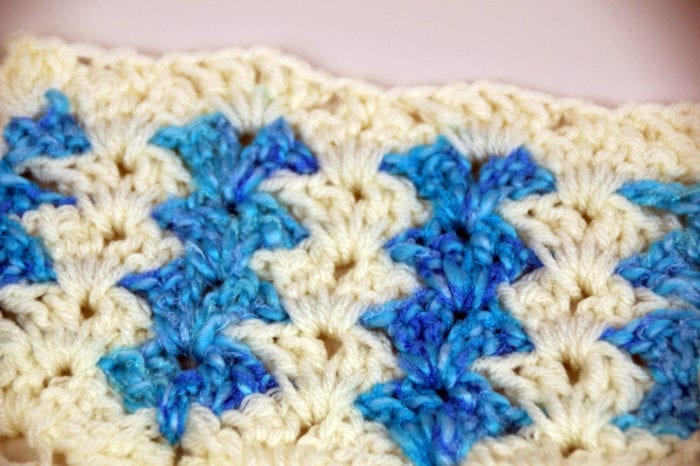 Video Tutorial
Afghan Pattern Ideas