Discouraged by how many BBQs you see on the side of the road during spring and fall clean up, there has to be something better.
Every year, our region has free pick-up for anything you want to throw out. The streets are lined with BBQs. The bodies rust out; the parts don't last. Replacement parts can be expensive, and I think, and I don't have proof, people would prefer to buy something new versus fixing something if it can be improved.
In the long term, you can spend more money replacing BBQs versus getting something of upper quality. At least, I don't know how many BBQs I have bought in my lifetime, but I know they end up falling apart after a few years.
We tossed a BBQ out, and, of course, someone scooped it for the metal recycling. Great for them, it sucks for us to have to buy yet another one. We decided to try a different approach. The idea of a Kamado Joe came to mind. We purchased it at the Vintage Stove & Fireplace Store near us.
Yes, regular BBQs, even cheaper ones, can last, but it's not been our luck. Today's BBQs appear to be built with the idea that the consumer will replace them within a few years. It isn't very good! Who has that money to waste in today's economy?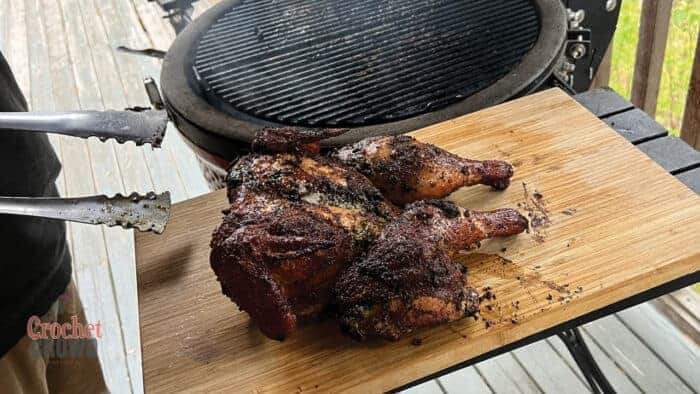 Firstly, the Kamado Joe is extremely heavy. They warned us, but holy mary, mother of gawd, it's heavy. For those with floors on decks that are questionable for weight, this thing has the potential to break through.
The ceramic inside the Kamado Joe offers its weight. We are now on year three of our Kamado with no evidence of falling apart. We've invested properly.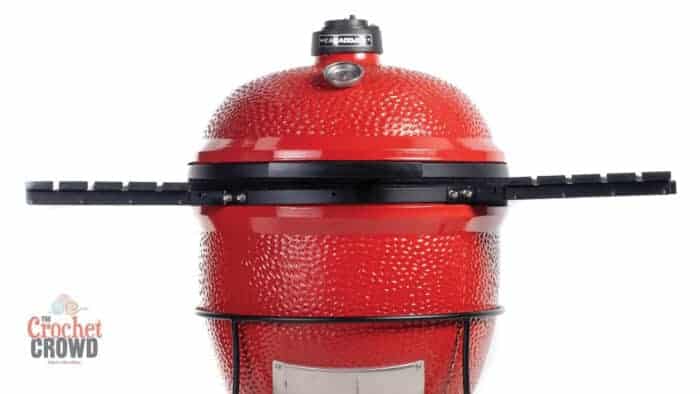 One of the issues we had and didn't have a secondary BBQ the first year we got this was the prep time to prepare to cook. You can use it as a BBQ, but the time to start it up, warm it up and get ready for cooking is nearly an hour. If you are up to whipping up quick hotdogs or burgers, remove the quick time from your thought. It's a process.
James from Smoking Dad BBQ below gives some helpful tips. Learning to use this is a fundamental factor. We've learned how to get the cooking to start sooner.
We eventually got a second BBQ that is used for quicker items like burgers and dogs. We choose a GrillPro. Daniel hates it so much as he struggles to cook stuff with it without burning the hell out of it. However, keep an eye on things and constantly check; it does the trick. I bought this for Daniel at the end of the season when it was almost half-price at the local store. They were looking to clear it, and the price was right.
So What's Better about Kamado?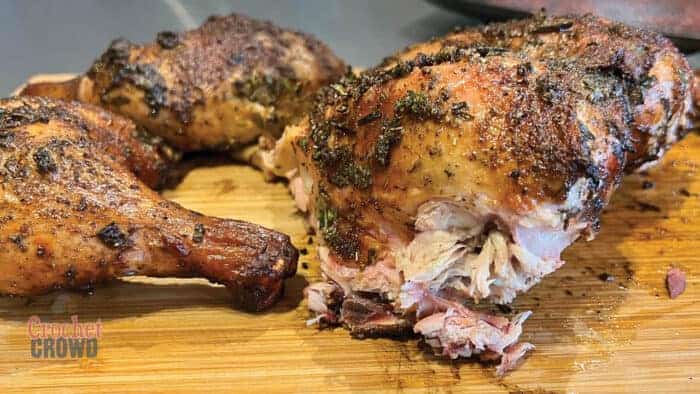 The taste of meat and grilled items have a distinct flavour profile that ignites the watering of our mouths. With the plates in the Kamado Joe, the flames never touch the things but use the heat from the charcoal to cook it.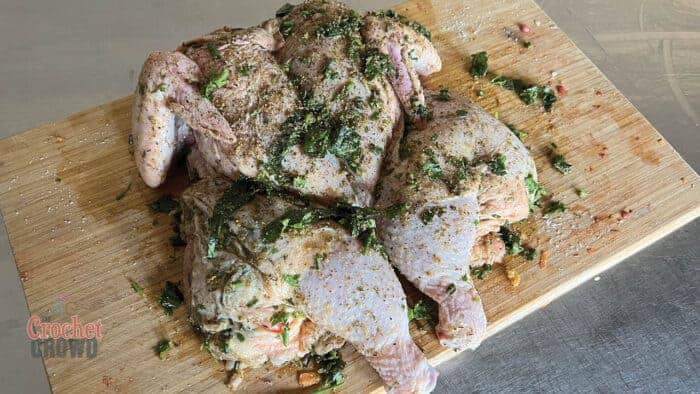 Daniel butterflied the chicken open... Gave it a herb with various salts and fresh-cut greens. He didn't let it sit long before tossing it on the Kamado Joe. Daniel usually cooks 1 or 2 chickens simultaneously to save prep work for the future.
For both us, this is three meals. Daniel will prepare the chicken for the second and third meals into something new such as a chicken salad. Daniel buys our chicken at the local butcher instead of a mainstream grocery store. It's the Canning Village Meat Market.
Cooking time was just over an hour.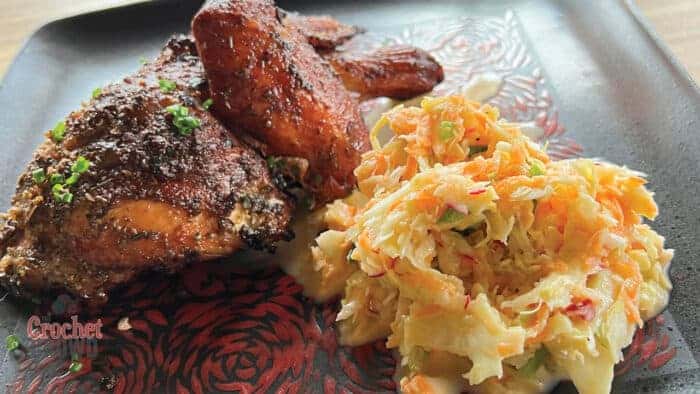 We went to our local Boston Pizza to eat with the group during stitch night. They had a new menu item called Coleslaw. Daniel is a foodie and was so disgusted by it. I'm not as particular, and by gawd, it was horrible. It tasted rotten on the borderline of 'what the hell is that!' The experience has shaken our confidence in a mainstream restaurant's ability to produce such a low-quality item.
Motivated by the experience, he made his own Coleslaw in vinegar form. He was using Apple Cider Vinegar for the tang. It was delicious. He let it sit for two hours before serving as the taste only got better with the flavours co-mingling.
It all comes back to if you are bitching about the food at the restaurants, go home and make it yourself to control the ingredients. Like you, though, there never seems to be enough time in the day and take out, or restaurants are the easier choice.
Daniel has cooked a few turkeys on the Kamado Joe. The host above is showing how he injects the bird. Daniel did the same thing. The leftovers were out of this world. The flavour and moisture the meat has, even a day or several days later, is hard to get on a conventional BBQ.
Yes, while the Kamado Joe is a higher-end purchase, the difference in the quality, if essential for you, is also noticeable. I'm almost 50 years old, and I am tired of repeatedly buying the same products as I think it's harder on my wallet. It feels good to purchase new things, but I have been wasting my money too.
You have to decide what is crucial for you. This has been our experience. We live in a time when it's harder to make money and survive and we are definitely tired of wasting our money too!