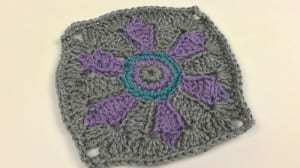 Elegant Floral Granny Square
Try this Elegant Floral Granny Square that plays with two yarns at the same time to pull off a pinwheel floral look.
This square is part of an afghan called the Patons Decor Elegant Floral Afghan. You can get all of the information for yarn colours and quantities to make that afghan.


Original Pattern Details
Pattern: Elegant Floral Afghan
Status: Free
Notes: Border details are included to make this afghan.
Instructions for this Square
Size 5 mm or H Crochet Hook
Complimentary Yarn to Go with Hook. Recommended yarn is Patons Decor. Patons Decor is a wool/acrylic blend yarn.
Squares use 3 colours each.
Granny Square Pattern Ideas
the_grid name="Granny Squares"]