Daniel is currently working through recipes from Farmhouse Weekends by Melissa Bahen. We don't do affiliates with Amazon, but you can find it there.
Daniel picked this book at the ranch we did the crochet retreat in Arizona. It was in the gift shop of the Rancho de los Caballeros.
The book dives into the idea of being able to make meals all year long. Daniel is focused on staying in season, so we won't buy corn during the months it's not available to us here locally, but he will buy frozen corn as an ingredient. Luckily, once July comes, we have strawberries that are local up to October.
We heavily support the Wolfville Farmer's Market for most of our needs and lucky enough to have several farmer's markets within a few minutes of our home.
A lot of the meals within the book are feel-good recipes. The font is bigger so you don't have to scramble to read the small print. Daniel is really enjoying this cookbook. Support your local book store and/or where you buy books online. ISBN: 978-1-4236-5672-2.
Daniel was inspired to make Lemon Buttermilk Teacakes by thumbing through this book. Easy to bake, horrible for keeping the waist line in check. So yummy. PuppiDawg says don't be cheap on the buttermilk icing!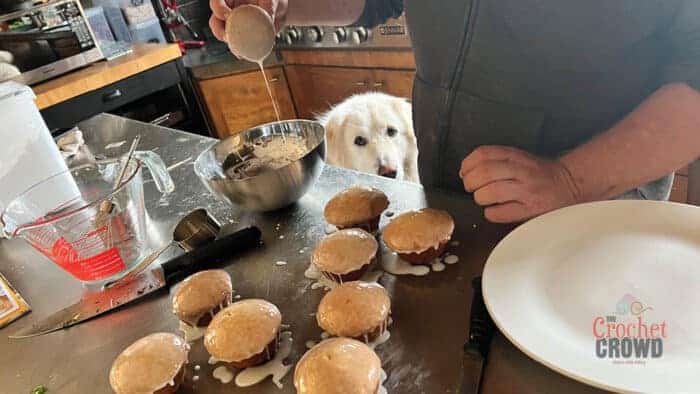 Daniel's Cook and Baking Books
While it's true that Daniel donated many cooking and baking books to the Devour! The Food Film Fest is a local yearly event in Wolfville that attracts people worldwide. A participant suggested Daniel donate his books so the organization can have a lending library from samplings from cuisine to organized workshops. Wolfville is already on the map for Acadia University, and the diversity of the cultures comes together in our region.
Living here in Nova Scotia, especially just minutes away from Wolfville, the area is thriving in experiences, and there is usually always something to do. The students coming in from around the globe enrich this area with their cultures and enthusiasm. It's one of the best things I love about living here.
Daniel's taste and passion for cooking change over the years, and he adapts and lets go of the past by donating his book when he's done. No, there's no list to be on when he does it. Like many people of this generation, more and more of his recipes are from online and his need to buy books is dwindling but he really does enjoy thumbing through real books. He's not completely digital yet.