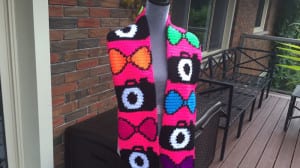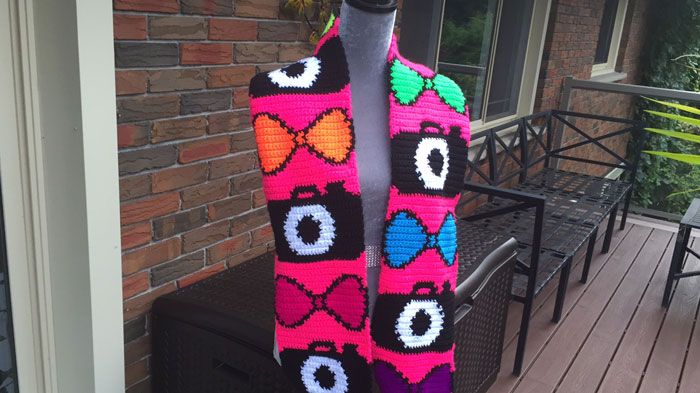 Crochet Word Charts
Graph-ghans and picture crochet projects are a huge rage within the crochet world. There are a couple ways to do graph-ghans. Commonly the idea of drawing a picture over a chart and counting the number of squares is quite typical. But there is another form of accomplishing this that is much easier and faster. It's called word charts.
Word charts are the concept of the pattern giving you the number of stitches you need to do in a row instead of counting a chart. Let me show you what I mean below.
Pattern Details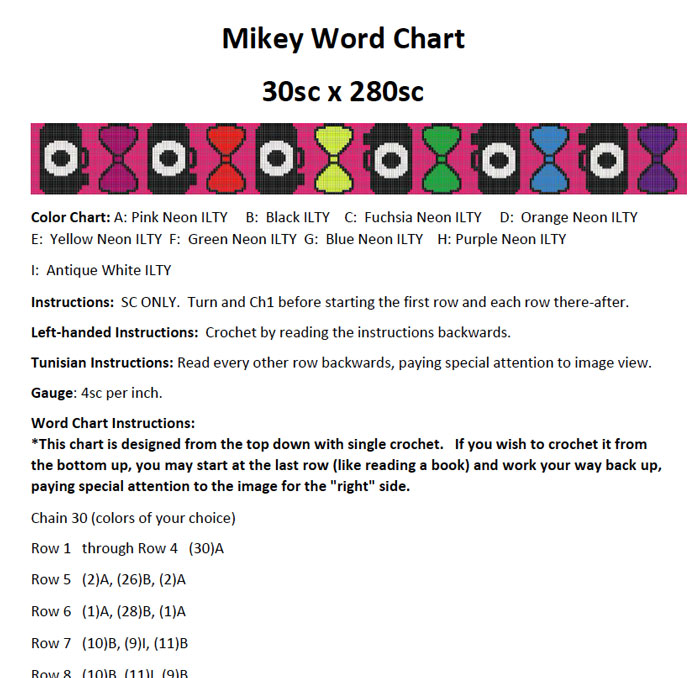 The pattern has the instructions and assigns each colour a letter of the alphabet. Each stitch is considered 1 single crochet. So for example, in Row 5, it's asking that your first 2 stitches are using colour A, next 26 stitches are colour B and final 2 stitches are colour A.
Even though you still have to turn your work, the next row takes into account that you have turned your work.
More About this Process
As far as I know, there are no free applications or services that provide this level detail. There are a few programs that are free that only lay your graphic over a graph and you still have to count.
Speaking from first hand information shared with me by a friend of mine, Veronica. She says it's easier to follow this concept than to fiddle around with a graph. The only thing with this concept is that the pattern can be extremely long to print out. For example, this pattern above has 10 pages for this pattern. As you work through the pattern, you check off the line and move onto the next.
Momma's J.A.M Pack Crochet Word Charts
Momma's J.A.M Pack Crochet Word Charts is owned and run by Sara Koenig. She lives in Alaska and has developed this business from home.
What does Momma's J.A.M Pack mean? I just had to ask. You might have guessed already but it's the first initials of her 3 children, Jason, Aiden and Morgan. She says JAM is sweet and she loves her kids and refers to herself as Momma's J.A.M. Pack.
Sara has developed software to allow her to figure out images to a Crochet Word Chart. She doesn't share this software but is happy to convert your portraits and more for a minimal fee. You can even have her add names onto the pattern and she will re-run the program to give you a specialized pattern where the name will be worked into the instructions.
Her patterns are very much like a typical written purchased pattern. Her patterns are created for the individual that has purchased them and not for mass distribution. Her prices are very reasonable, probably the cheapest I have seen online for this level of service.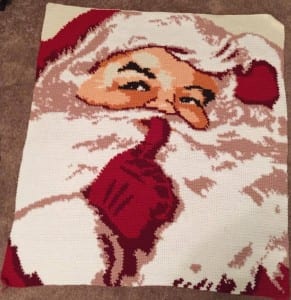 For example, this Santa is done by Crochet Word Charts and is available for purchase. The pattern is only $7. You cannot beat that prices verses fighting with a graph to figure out all of the boxes and more. This is her job as she raises her young children.
Sara has bundled packages so you can get further discounts.
We are seeing more and more crocheters purchasing these sorts of patterns instead of just straight graphs.
For more information about Momma's J.A.M Pack Crochet Word Charts, please visit her website.
For the record, this is not a paid advertisement, nor is there any commissions for The Crochet Crowd for this referral. We are impressed with the level of service and pricing that is offered. Sara makes it affordable to produce a graph-ghan or project. Any purchases or questions regarding purchasing needs to handled directly through Momma's J.A.M Pack.
If you are unsure, you can try my free bow tie scarf pattern above. You can play with a few rows of the design and see how you like it.
You can use my tutorial on how to change colour techniques for this type of project. It will give you some insight to how the colours are carried.