Sounds appetizing, eh! Daniel makes his salad dressing on the fly, as he needs it. When I moved in with Daniel, I brought a bottled salad dressing, and he had a conniption! He threw it out. The horror! I like, what is going on? Is this a relationship ending before it begins? I never really enjoyed the salad, so I let it pass.
He is adamant about making his dressing, which changes depending on the meal and gawd; it only takes him a few minutes! It's like a miracle as I have relied on the bottle of dressing that sometimes expires before I use it all. Crusty Thousand Island Dressing... um yeah!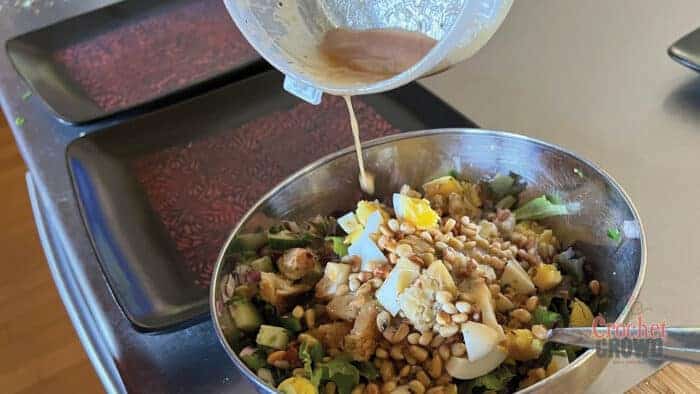 Daniel makes enough dressing just for two people for the meals and sometimes will make a bit extra if there are leftovers that will require it. So there's not a lot of waste. So that's good... right!?
Daniel's secret is all about the Olive oil. He gets Irini Extra Virgin Olive Oil. This is approximately $16 CDN for a bottle. Olive oils can range significantly in price but also in quality. He refuses to buy the cheapest olive oil, which to me, as a non-cook, I don't understand. Extra virgin usually means higher quality oil. You can learn about regular oil versus different virgin olive oils at TastingTable.com.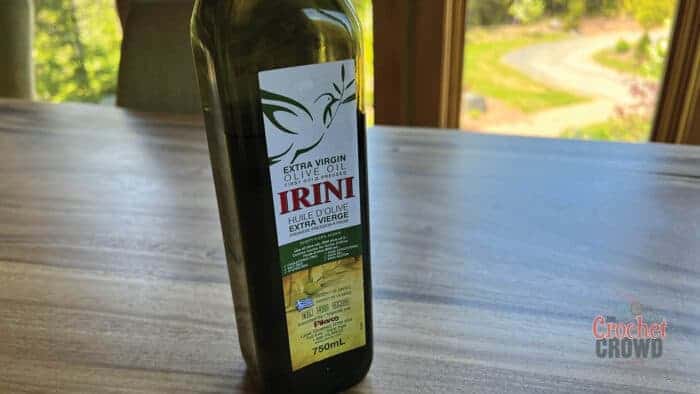 Olive Oil has many benefits to being part of your diet. Daniel is always stocking up on the olive oil at the Atlantic Super Store. Some of the benefits are as follows:
Fighting Off Diabetes
Brain Function
Anxiety and Depression
Weight Loss
Pain Relief
You can read more about the benefits here on Facty.com for Olive Oil Benefits.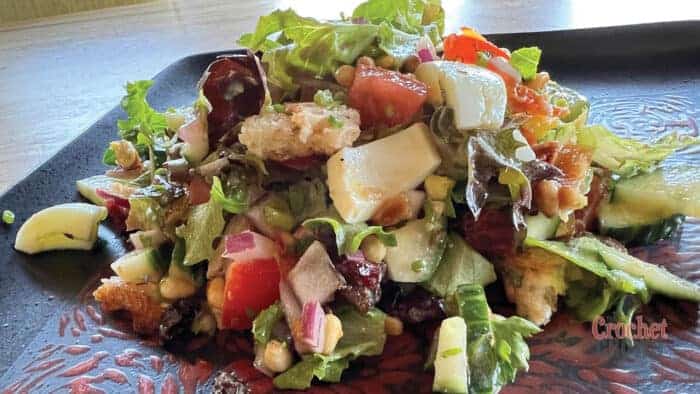 Daniel calls salads like this garbage salad. There's nothing garbage about it, but it's usually using up the odds and ends in the fridge. All of Daniel's dressings are vinegarette-based, nothing creamy like Thousand Islands.
Cookie + Kate has variations of Vinegarette dressings to try. See her pairings and how she does it.
Back To Daniel's Salad Dressing
Daniel has been making salad dressing for so long that he throws the ingredients he knows that work but also searches for new flavour ideas online.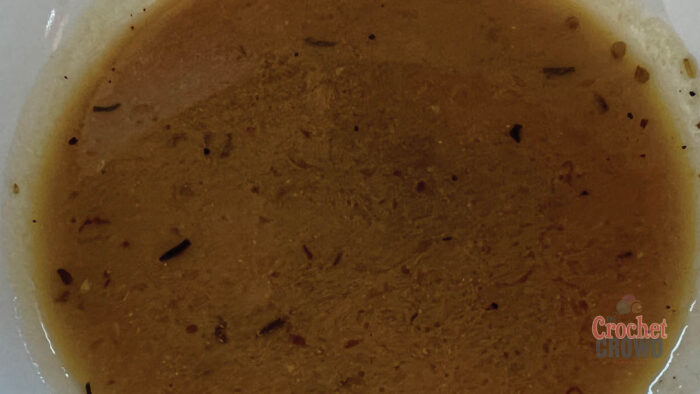 Daniel's dressing included the following ingredients:
Irini Extra Virgin Olive Oil
President's Choice Red Wine Vinegar
Thyme
Oregano
Salt
Pepper
Dry Mustard
Honey
All of these ingredients are then shaken within a concealed container that you saw him dumping from in the first photograph.
Garbage Salad Ingredients
The salad has the following ingredients:
Mixed Lettuce Greens
Dried Mixed Fruit
Toasted Pine Nuts (he toasts them carefully in a frying pan.
Freshly Boiled Eggs (just two)
Chives
Oregano
Mint
Parsley
Cucumber
Tomato
Red Onion
Daniel had stale leftover Jalapeno Bread from the Wolfville Farmer's Market a few days ago. It's not garbage; it's a salad waiting to happen. Daniel sawed the bread and popped it into the toaster. He then buttered the toast and cut it up to make croutons.
Happy cooking, and tell us how you are feeling today in the comments.