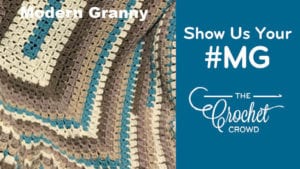 What is #MG?
#MG means Modern Granny. If you have been following The Crochet Crowd for a while, you will have noticed the term Modern Granny has popped up almost daily. It's a trending granny afghan stitch look.
This term was created by our very own Jeanne in 2016 when she created an afghan and was looking to name the afghan. The blanket she created using using Caron Cakes went over like, ummm pardon the pun, hot cakes! The ease of the stitch with the Caron Cakes! Delicious!
Since then, Jeanne has developed more variations of using the stitch and referring it to the Modern Granny. In fact, her term is really caught on. She was thinking last week, Corner to Corner is referred to as C2C. If you say C2C to a crocheter, most of us know this as C2C. We can do this with #MG.
Jeanne started using this #MG in the back end conversations with our team and we are like, what are you saying? She explained about simplifying the name of Modern Granny to #MG. For people to use the hashtag of #MG.
I was teasing her last night about this but it's actually a really good idea. Somewhere along the way, corner to corner became known as C2C. So why not… Modern Granny is #MG.
Sometimes people assume that granny squares are meant for ummm… granny! So the simplification of the #MG removes the insinuation of crochet or even the granny square concept is more for granny. It modernizes the concept for the Millenials. Thus the name, Modern Granny, #MG.
So going forward… show us your #MG… use the hashtag of #MG when using Instagram and shortform of MG. The terminology makes a lot of sense! Let's create a new trend in crochet… it's starts right here… right now! Our community can educate those who don't know what #MG means.
Will you help us make this a new trending term? I hope you say Yes! It just makes sense! 
See the Modern Granny Gallery of Projects. Many have free tutorials to follow as well. Jeanne is on a role with this concept!