Jingle Bells Door Hanger
Gift 5 – 12 Gifts of Christmas Series
Enjoy this Jingle Bells Door Hanger. This is part of our 12 Gifts of Christmas Video Series. This is designed by Katherine Eng for Red Heart Yarns. I really enjoyed making this gift as it was really quick and easy to do. The secret to the quickness is the fact that you use two yarn strings at one time. This makes the project bulk up and grow really quick.
You can explore with any colour combinations and don't be scared to change the look by adding appliques or something else to the front face to make it more meaningful to you.
The hanger at the top was located at Walmart for $1.97. For myself, it was the only place I could find it. The bells were attached to the hanger and I decided to leave it together to make the look more interesting. I yarn bombed over the ring with single crochet how hide the rustic look of the ring to make it blend better with my project. 
Tips & Advice
With this pattern, you may need to improvise if you loose your stitch counts in any way. In the video tutorial, I show you where I had to improvise. Nothing is worse than frogging your work (ripping out your stitches, rip it, rip it!). Part of knowing crochet and knowing how to fake it at times to get the results that you most prefer.
Diagrams As Seen in The Video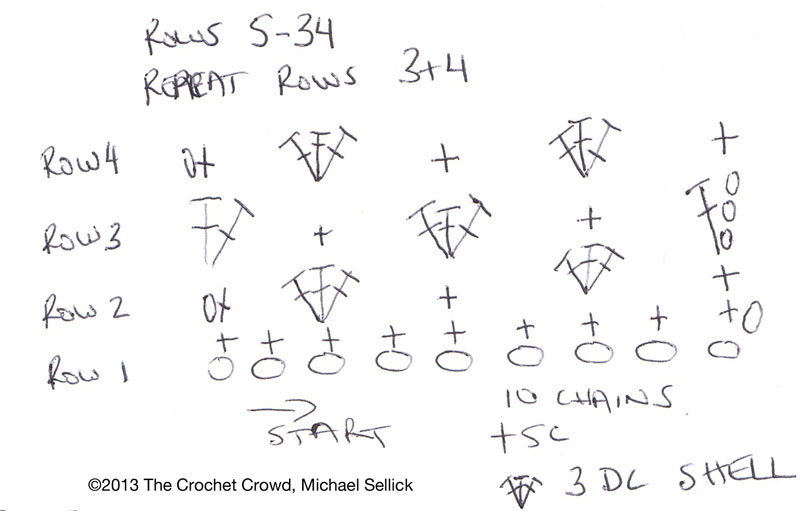 ©2013 The Crochet Crowd, Designed by Katherine Eng for Red Heart Yarns