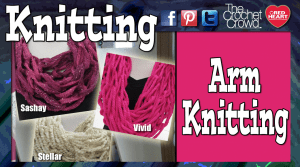 Trending lately is the art of Hand Knitting... not just knitting but using your arms instead of knitting needles. This concept allows you to quickly make scarves using extra bulky yarn such as Red Heart's Vivid, Stellar and even Sashay. Watch how easy it is to hand knit!
Just use 5 Stitches across and use the entire two balls of yarn up for your projects.
You can make a scarf is less than 30 minutes. Once you get the rhythm of the motion, the sky is the limit to how fast and how many you can knit up!