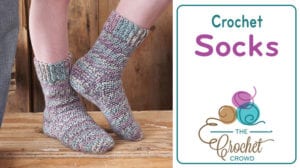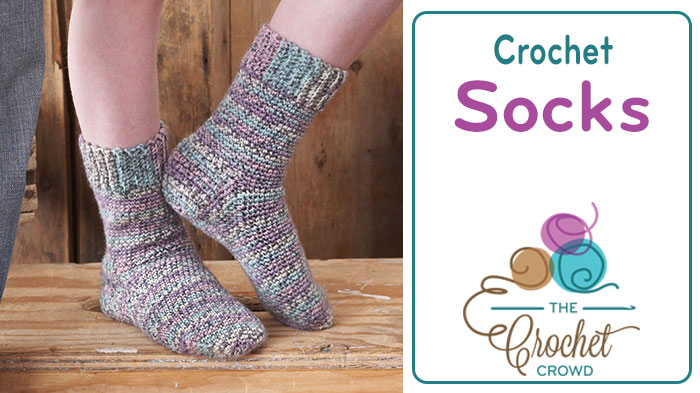 What's Up With Crochet Socks
The team has been chit chatting about crochet socks behind the scenes. Daniel has been pushing me for years to teach crochet socks. Like these Family Crochet Socks on the right.


Can I level with you, socks scare the bajevus out of me. I have so many unfounded fears when it comes to crochet socks. It's a fear that has gone back to year one of The Crochet Crowd where I was unable to achieve a pair of baby booties for both to be the exact same size. I would loose my stitch count and suddenly one booty is bigger than the other. I have fears of having slip stitch join marks throughout my socks. Honestly, you have no idea how much slip stitching lines bother me. Sometimes after a project where it's so obvious, I am deeply disappointed in myself to the point of mental anguish.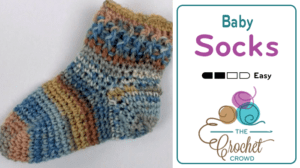 I have crocheted baby socks and even developed a pattern for the baby crochet socks. For the baby version, I could do them without a problem. I even did a tutorial on them too. I enjoyed them. I think being baby size, they don't intimidate me as much as children and adult sizes do.
Okay… Okay… I know what you are thinking. "Mikey, you aren't selling me to want to do crochet socks?" Truth is… do you want me to be spewing happy rainbows and telling you how easy things always are when in some cases, like socks, I get my butt kicked.
My fear is in the heel. Like Kinky Boots where Charlie was told to "Look to the heel young man, the sex is in the heel!" The heel is everything for socks. Shape and concept are what make these socks work.
Self Doubt
So yesterday morning, I decided, on my own accord, to look at the different free patterns on Yarnspirations to find a pattern that can be done in tutorial format. Something that isn't so complex but is a great stepping stone into the world of socks. For knitters, it's usually the knitted socks that lure the interest of a new knitter.
So I pulled up a pattern I could review. Let me tell you what the hamster on the wheel in my brain said to me.
Are you kidding me Mikey, look at all of those instructions!
You can buy socks in bulk at Walmart!
You are going to screw up the heel, why bother to make yourself look stupid.
You are going to get confused, give up and look for something else.
You are too stupid to do socks, stick to afghans, scarves and cowls.
As you can see, I was mentally torn. I am great a mentally beating myself up in self doubt and fear. I know how to procrastinate like the best of them. So I slowly pulled together the supplies to try a sock with pushing my fear aside.
Self Goals
I have screwed up in the past with the heel and a pair of socks not being the same size. So my goal is to slow down and stop suppressing the need to avoid counting. I think the only way for me to get a matching second sock is to ensure both have the same thought and time invested into them.
So I put my hook into the wind. The pattern I am using references stitch markers, A LOT! So if a designer is telling me to use stitch markers and in the past I think it's not important and don't bother, then that's part of my own stupidity kicking in to help me not make a matching pair.
I was being a good hooker this time in paying attention to the tips. Using a measuring tape instead of eyeing up the sock like I had been before. I was determined to follow the instructions, word for work, tip to tip and see how it goes.
Materials of Sock Yarn
For me years ago, I never really gave much thought about yarn. It should be no surprised when I started The Crochet Crowd, I didn't know the difference of acrylic, alpaca, wool and more. My mother referred to her yarn as 'wool'. I called that myself. Meanwhile, neither her and I ever touched wool yarn, ever!
I used to think any yarn can be used for socks. But you have most likely seen afghans that end up pilling with standard usage. Try using the same yarn as socks. You will see the socks instantly pill up. You may see your socks break apart in one usage and the yarn fibers will separate and destroy itself. They lack nylon, it's the nylon inside of sock yarn that makes sock yarn durable.
Sock Yarn is a different species of yarn. It is generally thin which scares me anyway. But look further into the yarn, it's about what the yarn is made of.
Patons Kroy Socks is a leading brand of Sock Yarn by Yarnspirations. It's a blend of 75% Washable Wool and 25% Nylon. Patons Kroy Socks has a ton of colour pallets with this leading yarn. There is also a second brand called Patons Kroy Socks FX. The FX version has slowly changing colours which really take the socks to a whole other level. Either are fun but the FX are my favourite.
Now here's the thing. Wool, to some, can cause allergic reactions. As of 2015, Yarnspirations revived an old brand back to the market called Bernat Sox. Bernat Sox is 60% Acrylic and 40% nylon. So it has no wool or animal blends allergies to worry about. Due to using Acrylic instead of wool, it makes the yarn cheaper to manufacturer as wool is an animal based fiber that requires a whole other element of sheering sheep and more.
Why Bother to Crochet Socks Anyway?
Do I really have to explain that? Okay. Okay… I'll try. Have you seen the quality coming out of the retail stores today? In the world of what is called 'fast fashion' where items are made for a few times to wear before items ruin whether it be regular use or the washing machine distorts something causing us back to visit the store.
Crocheting your own socks will provide a homemade look, feel and personalized feeling to your socks. Homemade socks will last years, not a few times of wearing. The material in the socks is meant for excessive long lasting.
Homemade socks using Kroy Sock Yarn allows you to express creativity and have unique looking socks. Daniel and I have primarily all black socks in our drawer. These colours below just scream fun! Made of wool, they will be warmer than the standard acrylic and nylon in my socks from the retailers.
The playful nature of the colour transitions makes for incredible looking socks.

The Patons Kroy Socks FX has the slowly transitioning colours. It makes the socks have flow and really amazing colour stories. Love it, A LOT!

The Bernat Sox has just a few colours but are considered popular by trends. You should see the second one from the left in a free pattern that's available on Yarnspiraitons. It's really funky fun!

Steps in Crocheting Socks
I did a 2/4 year old size sock as a my test trial. The sock has 6 areas that I would classify as major steps. I wouldn't have thought that until wanting to teach this. When I do a test prototype prior to teaching it on camera. I am whispering to myself the tips and steps on what I would say. I gather my intel on the tips where I trip and fall and key elements that are important.
In the sock tutorial that I have planned, I will be isolating the steps out that is listed in the pattern. You will see the order of which this sock is made by looking at the number in front of the section of the sock. As you will have noticed, which surprised me too, the heel is done last.
Not all socks are made this way. This was made from the toe to the top and revisit the heel to finish. Other socks start at the top and do the heel along the way to the toe. Some stops are done in rows from toe to top with a strategic bend and heel formation. there's more than one way to make socks.
In my tutorial, I have chosen to do the easiest method, at least in my opinion.
Most Important Lessons for Me
Count Stitches… Count Stitches… Count Stitches… You need to count. If you get off track, you can do slight corrections without anyone noticing but the counting is vital.
Use stitch markers at critical points. You will see my tutorial the number of stitch markers I used and I did it because the designer said to but it's the stitch markers that will make or break your success.
Read the instructions fully before proceeding.
It's not as hard as it looks. Have faith in myself.
Conclusion
Anything is possible when you set your mind to it. Trust in yourself and in the instructions. Well, I best stop chatting about socks and head to the studio to film how to do it.