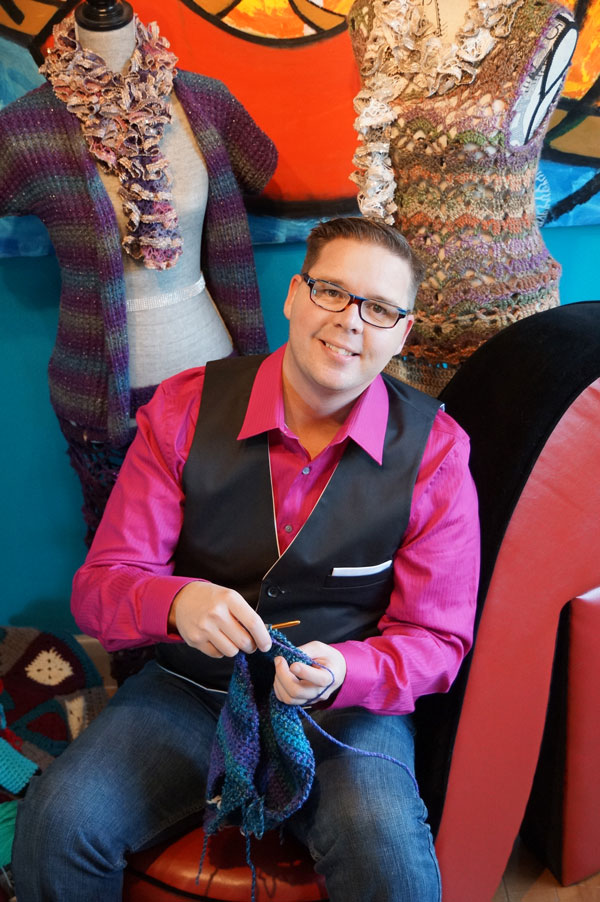 Mikey's Crochet Skills
I was taught to crochet by my mother at the age of fourteen. Intrigued by the speed of the craft and the simplistic designs of what my mother was able to achieve through double crochet, I became 'hooked' on the craft. She only knew how to double crochet, so I went and bought a crochet book because I was so bored of the double crochet. From this moment of buying a crochet book, I taught myself the skills you see online today. Without my own children to pass along my skills, I have turned to the Internet to show others how to crochet
The Creation of The Crochet Crowd
The creation of teaching on
YouTube
was a fluke. A boring afternoon would end up turning into a multi million view resource community page. People who are just finding me now believe I have come out of no where and I am experiencing instant success. Yes… the idea was a fluke but there is nothing instant about what I have achieved. The amount of work to build to my level is undeniable to border line insanity during my journey. The hours and self discipline involved has been enormous and continuous to be everyday job to inspire thousands of people.
The Crochet Crowd® relies on me to steer viewers in the right direction and/or give sound advice. My advice is based on experience through using products, services or other key factors. I've managed to find really good companies to do successful cross promotions online. Like many people / companies starting out, I have experienced companies where I have learned some difficult lessons. I've come to understand that The Crochet Crowd® needs me to be accurate and honest when it comes to recommendations. I have key contacts in place to cross check facts to make more informed decisions.
I've been on the quest of building this platform steadily since March 2008 and dedicate most of my day, every day, to helping others achieve their creative success stories.
Role of The Crochet Crowd
I can spend easily up to 14 hours a day social networking, video creation, article writing, and build cross content at my home studio. I'm captivated by the linkages and see obvious potential in companies where consumers can receive free opportunities to learn.
I have been partnered with Daniel Zondervan since January 2009. Daniel is the co-creator of The Crochet Crowd. Daniel's strengths are behind the camera in marketing, scheduling, newsletter creation and dealing with show logistics. He is also the marketing strategist for The Crochet Crowd 'Live'. He is responsible for designing displays and interactions between guests and myself. He has keen eye for trends without following the industry. His involvement is an asset and makes the crowd the success that it has become.
My Role (Michael Sellick)
Encourage creativity with viewers and followers on Facebook.
Work with clients directly to use their products or patterns on camera.
Give consumers choices and ideas when it comes to project creations on camera and in written patterns.
Social network scheduling and compaign strategies.
Participate with all social media outlets where The Crochet Crowd is associated to.
Consult and implement social marketing campaigns for other crafting based companies.
Daniel Zondervan's Role
Trends, projects and video consultant.
Marketing strategist.
Newsletter creation.
Show logistics and scheduling.
Personal Information
I live in Walkerton, Ontario Canada. A sleepy town of 5,000 residents. My town's location in Canada makes it difficult for me to attend major functions without incurring travel expenses and planning ahead of time. I could move closer to the city but I prefer Walkerton as it is quiet and situated in the country. Daniel and I have two cats, Dimitri and Riverstone.
The best way to get a hold of  me if you have a video question or question about a technique is to post a question to our
Facebook Community Page
. There are too many emails to guarantee a personal response from fans. Clients of mine are given a direct email to ensure close contact is maintained.
Professional Portfolio
Please Note: My schedule for cross social marketing or social media consultation is completely booked until further notice. You can email me if you wish if you have an opportunity that you think I can't refuse. I am working for several companies right now in projects and social media consultation roles.
Who Is Mikey?
Editor

How To Video Host & Video Editor

Speaker

Social Media Director / Consultant

Demonstrator

Instructional Teacher

Learn More About

Mikey

on Linkedin
"The Crochet Crowd is the direct result of what happens when passion creates motivation that drives desire and connection."
Interesting Statistics
Online video viewers enjoy a new perspective and has moved Michael to the top by subscribing and following. Videos can be viewed up to 90,000 times a day across all networks for The Crochet Crowd®.
Michael can work up to 14 hours per day in building content for The Crochet Crowd® and affiliated content partners.
The top four countries in order of popularity are the United States, UK, Canada & Australia.
The top 5 major cities in the world who are members of The Crochet Crowd Facebook are Toronto in Canada, New York in the USA, Cairo in Eygpt, Philadephia in the USA, and Los Angelas in the USA.
Michael appears on 8 different YouTube Channels for various companies as an official host or co-partner.
Published Articles & Video Presentations
Featured / Guest Blogger for FaveCraftsBlog, Creativ Festival and Stitch & Unwind.
Written product reviews and filmed product video reviews for a number of crafting companies.
Editor for The Crochet Crowd.com Online Newsletter since January 2011 to present.
Contracted social media consultant/director for crafting based companies.
Granted filming rights of several major crafting based companies.
Latest technology of semi-professional filming and video editing computers and software.
The Power of Social Media Links & Video Usage
Michael has successfully partnered with companies associated to crafting products and service.
Videos create sales opportunities when the product or project is presented. Michael tries to balance these videos with being affordable, creative and not too complicated for people to follow on camera.
Trends depend on season and presentation of products as a whole for the entire crafting industry. With crafting having seasonal trends, The Crochet Crowd Network experiences the same high and lows that stores and thousands of online websites go through each year.
Followers of Michael expect him to be honest about a product or services. He will not film a product or service that he classifies as unsuitable for his audience.
Michael will refuse to work with any company or product where he believes the consumer isn't getting sufficient value through product and/or customer service.
Demonstrations / Teaching
In-Store Demonstrations of products / projects.
Online Videos for The Crochet Crowd and established partnered companies under their own brand.
Public speaking at crafting guilds.
Crafting conventions.
Crafting festivals.
Michael's live & video demonstrations "wow" audiences to simplify a task or make it appear "doable". His mission is to educate the consumer which leads to confident feel good buying power from the consumer that benefits distributors & manufacturers.