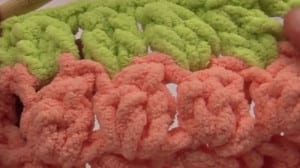 Puff Stitch
The Puff Stitch is exactly what the title says, it causes the stitches to be together which pushes them out like a puff.
Puff stitches can be a combo of a number of posts being brought together to form the look. You will need to see the special instructions of any pattern to see if the puff configuration is made up differently.
This example is from a free pattern, it's called Puffy Baby Blanket.
I have a video tutorial showcasing the Puffy Baby Blanket using this stitch to show you how it is done.
Video Tutorial