Embark on a once-in-a-lifetime adventure with The Crochet Crowd as they sail along the picturesque Rhine River, exploring charming cities and discovering hidden gems – yarn stores that will make any crochet enthusiast's heart skip a beat. Get ready for a fibre-filled journey from Zurich to Amsterdam, with every stop promising a unique yarn-shopping experience.
This list was created with the help of the tour operators of Ama Waterways and Bruce Glassford.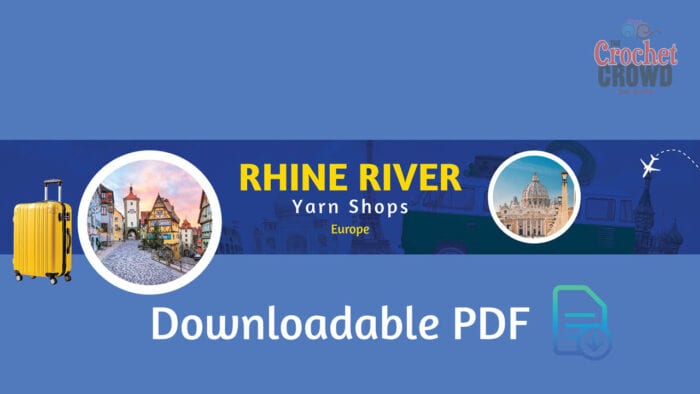 We've prepared an exciting two-page downloadable PDF with a map and addresses. Some locations may be closed at the time of your visit.
.
.
Zurich, Switzerland: The Grand Beginning
As the cruise sets sail from Zurich, Switzerland, prepare to be enchanted by the yarn scene in this vibrant city. Zurich boasts a rich crafting culture, and with multiple yarn stores within reach from the pier, it's a dream come true for avid crocheters. Explore cozy shops like 'Wool Wonders' and 'Knit 'n Purl,' offering a delightful selection of locally sourced yarns and unique patterns.
Yarn shop: Tuttolana
Address: Neumarkt 10
19 min walk from the Zurich Marriot Hotel.
Lucerne: A Lakeside Yarn Retreat
Next on the itinerary is Lucerne, a city surrounded by breathtaking lakes and mountains. Nestled in the heart of Lucerne, 'Alpine Threads' awaits, showcasing a collection of alpaca and merino wool in a variety of colors. Don't forget to grab a skein or two as a souvenir, and immerse yourself in the tranquil ambiance of this yarn haven.
Yarn shop: Aarlan GmbH
Address: Kauffmannweg 17
3 min walk from the hotel.
Freiburg: Where Tradition Meets Yarn
As the cruise moves towards Germany, the city of Freiburg beckons with its medieval charm and cobblestone streets. 'Crafters Corner' and 'Yarn Haven' are just a short walk from the pier, offering an array of traditional German yarns and patterns. Dive into the local knitting culture and discover the perfect yarn to add a touch of Freiburg to your crochet creations.
Yarn shop: Wolle Rodel Address: Merianstraße 9
A 6 min walk from the
Cathedral Freiburger Munster
Strasbourg: French Elegance in Yarn
Crossing into France, Strasbourg welcomes crocheters with a touch of French elegance. 'La Belle Laine' and 'Fleur de Fil' present an exquisite collection of yarns, from luxurious merino blends to vibrant cotton skeins. Enjoy the blend of French artistry and cozy crafting as you explore these charming stores located just minutes away from the pier.
Yarn shop: Phildar
Address: 32 Rue du 22 Novembre
8 min walk from the Notre Dame Cathedral.
Yarn shop: Tricots Arts et Créations
Address: 6 Rue Saint-Pierre-le-Jeune
9 min walk from the Notre Dame Cathedral.

Yarn shop: La Mercerie du Bain aux Plantes
Address: 2 Rue Du Coq
12 min walk from the Notre Dame Cathedral.
Yarn shop: La Droguerie
Address:20 Rue des Serruriers
4 min walk from the Notre Dame Cathedral
Heidelberg: Yarn Romance by the Castle
Heidelberg, with its iconic castle and historic charm, sets the stage for a romantic yarn adventure. 'Castle Yarns' and 'Riverside Fibers' boast a curated selection of yarns inspired by the city's rich history. Pick up a skein reminiscent of the castle's stone walls and let the romance of Heidelberg weave into your crochet projects.
Yarn shop: Idee Creativmarkt
Address: Märzgasse 12-14
15 min walk from the Hauptstraße shopping area.
Yarn shop: Wolle Rodel
Address: Hauptstraße 99
7 min walk from the haupstrabe shopping area.
Speyer: Yarn Treasures by the Rhine
Speyer, a hidden gem along the Rhine, invites crocheters to explore its unique yarn offerings. 'RheinWolle' and 'Colorful Stitches' showcase yarns inspired by the river and its surroundings. Immerse yourself in the colors of the Rhine as you browse through these cozy stores, discovering treasures that will add a special touch to your creations.
Yarn shop: Nadelstich-MABschneiderei
Address: Roßmarktstraße 1b
10 min walk from the Speyer Cathedral.
Cologne: Yarn Extravaganza in the Cathedral City
Cologne, with its iconic cathedral and lively atmosphere, promises a yarn extravaganza for The Crochet Crowd. 'Köln Knits' and 'Fiber Fusion' offer a diverse range of yarns, from bold and vibrant to soft and muted. Take a stroll from the pier and find inspiration in the heart of this bustling city.
Yarn shop: Lauras Wollladen City
Address: Schwertnergasse 1
8 min walk from the Cologne Cathedral.
Yarn shop: Garn Store
Address: Gertrudenstraße 21
16 min walk from the Cologne Cathedral.
Amsterdam: A Yarn Finale
As the cruise concludes in the vibrant city of Amsterdam, it's time to explore the Dutch yarn scene. 'Canal Yarns' and 'Tulip Twist' are must-visit stores, offering a blend of traditional Dutch yarns and modern creations. Wrap up your yarn adventure with a visit to these gems, creating a finale to remember.
Yarn shop: Steven & Penelope
Address: Nieuwe Hoogstrat 29
8 min walk from the Grand Hotel Krasnapolsky.
Yarn shop: Hooks & Yarn
Address: Haarlemmerdijk 147
8 min walk from the Grand Hotel Krasnapolsky.
The Crochet Crowd's Exclusive Shopping List
To make the yarn expedition even more exciting, The Crochet Crowd has prepared a free downloadable shopping list, complete with walking maps for each location. Navigate with ease from one yarn store to the next, ensuring you don't miss a single yarn-filled moment.
Whether you're a seasoned crocheter or just starting on your yarn journey, this cruise along the Rhine River promises a unique blend of cultural exploration and fiber-filled excitement. So, pack your hooks and yarn, and get ready for an unforgettable adventure with The Crochet Crowd!