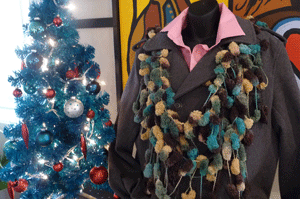 Slip N Go Scarf
It doesn't get any simpler than this Slip & Go Scarf. This is strictly slip stitching of Bernat's Zoey Yarn. This is pom pom yarn and virtually any pom pom yarn will work with this. People comment with great feedback whenever Mikey wears this in the winter time. It's fun and fabulous. 
Free Pattern by Michael Sellick – The Crochet Crowd
©2011 The Crochet Crowd
Materials Needed
Size 5.5 MM or J Size Crochet Hook
1 Full Hank of Bernat Zoey Yarn
This scarf will turn out between 7 to 8 Feet Long and take about 20 minutes to complete. There is n
o chaining involved to get the scarf started. The pom pom's secure the slip stitching into position and will not come out. Every stitch is a slip stitch. Follow pattern below and slip stitch the entire hank of yarn to get the full length scarf. If you feel the scarf is getting too long, simply end it earlier or don't finish the hank of yarn.
Definitions
CH – Chain, SC – Single Crochet, DC – Double Crochet, SL ST – Slip Stitch, BEG – Beginning, TOG – Together, DEC – Decrease,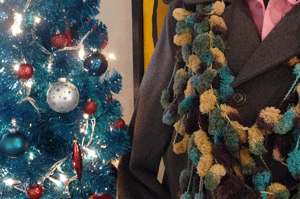 ---
 Free Pattern:
Hook space between 3rd and 4th Pom Pom. SLIP Stitch it into place.

Next Stitch, hook space between 5th – 6th Pom Pom. SLIP Stitch it into place.

Repeat step 2 and 3 until the Hank runs out. 

Fasten Off. Extra piece can dangle and not be noticeable.