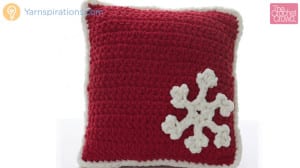 Crochet Snowflake Pillows
Learn how to crochet a fabulous Bernat Blanket Snowflake Pillow. This pillow is super easy and super quick due to the yarn being Bernat Blanket. The yarn is ultra thick and which provides quick thick stitches and great cover over a pillow form surface.


This pillow is 14″ square but once you see how this is done, you can be flexible with your ideas with making bigger or smaller pillows. Remember, for any pattern changes, it will change your yarn consumption.
I was so surprised on how quick this went. It took me about an hour and twenty minutes to do the front and back panel. I then crocheted the snowflake which is really quick and then closed up the pillow. I believe this pillow can be done in less than 2.5 – 3 hours
Pattern Details
Video Tutorial