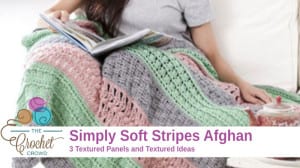 Crochet Afghan
This Crochet Simply Soft Stripes Afghan is made up of 3 panels. The panels are full of texture. There's a lot of learning possibilities for mixing up some great stitches.
The idea that compels me with this afghan is that you can make an afghan without having to be buried under it halfway through the project. It makes it easy 'hooking on the go' without having to pull out a mega project from your yarn bag.
All of the panels are easy to master once you under the repeating stitch which is pretty simple. Once you get that, you will have this afghan licked!
Follow the tutorial below for all three panels that are made in this project.

Video Tutorial