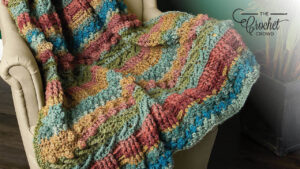 I've died and gone to texture heaven and why is my chair wet! I LOVE THIS BLANKET! The Crochet Texture World Blanket has me saying to myself, "BRING IT ON BAYBEE!"
Yarnspirations design team knows I cannot resist a deeply textured sampler! OH MY! I mean... come on, look at this bad boy! It's dying to be hooked up! It's eager for me to get at it. I am sure of it.
There is an 18-row repeat that says, "Mikey, you know you want to hook me up!" and I am like OH... Tell me more! 
The stitch multiple to change the size is Multiples of 8 chains + 7.
Jeanne says what's in her wheelhouse. This for me is my wheelhouse! Just yummy!
More Ideas

Tutorial
More Collections