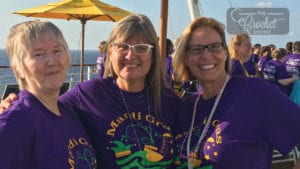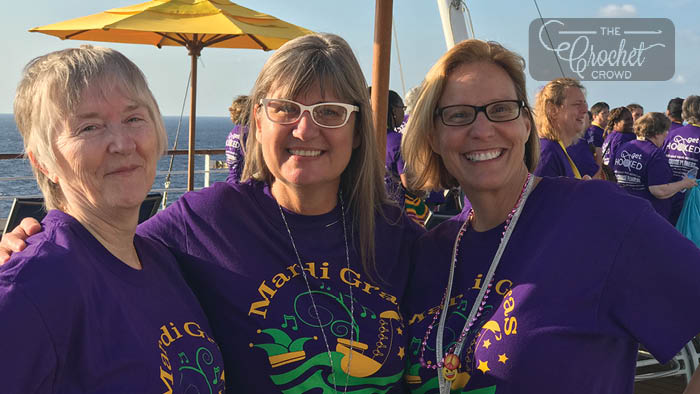 Retiring the Crochet Cruises in 2022
The Crochet Cruises hosted an event produced by The Crochet Crowd will retire in 2022 with our Final Voyage.
By 2022, our final voyage will be Cruise #20 / #21. We wanted to hit 20 cruises and mark that off our list for something amazing we have accomplished.
A Quick Look Back
Without the Crochet Cruises, many people on my team and within our volunteer teams are people I would have never met in my life's journey. These people, including the passengers who have continually sailed with us over the years, have enriched our lives beyond measure.
We have laughed together, cried together and celebrated the wonderful world of crochet on board the cruise ships since 2014.
Final Voyage
The final voyage will be our last conference-type program onboard the cruise ships. It will be the last time we ship skids and skids and skids of yarn to the ships.
The Next Generation Event to Come
We have a plan to morph and evolve to the next generation of events for our company. Trying something new. It may involve cruise ships or official landlocked locations. We are subtitling it as "Travel with The Boys" aka Daniel and I. There will not be yarn handed out by the boxes on the ship, there will not be any official workshops.
You bring your own yarn and your own ideas. This concept allows us to travel to locations where it is difficult to ship the yarn in advance. Incorporate activities with downtime involving the crochet community.
It may involve locations here in Canada or in the USA or even in Europe. We love Europe as a go-to destination for touring for Daniel and I. An event where you are not tied to an event schedule of a conference or crocheting with yarn you don't prefer. It could be places like Ireland or even cruising the Mediterranian through Italy, Barcelona, Greece and more.
We did our first Team Cruise back in 2018 and with having no structured classroom time, it was one of the best cruises for really getting to know each other. Man, I got a lot of crocheting done.
With an activity fee, we can plan events dedicated to our groups such as conference or meeting place rentals to allow us the space to hook out and cab. With optional extra tours where busing and more can be arranged to move our party.
Overview of a Crochet Cruise