DOWNLOAD FREE CANDY CORN PATTERN
---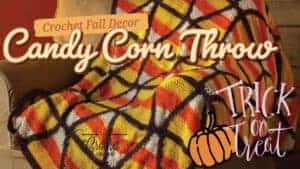 We're friends and can speak freely, right!? I have seen this throw for years and turned up my lip. I'm never going to make a tutorial for that. There are a couple of reasons why I put my foot down and refused to film it. This is the Candy Corn Crochet Throw.
I've never had Candy Corn. I don't have an emotional attachment to that candy. I know it's iconic for fall / Halloween. I'm naturally addicted to sugar garbage candy, so I went all my life without this. A package of Fun Dip, omg, so good!
More technically speaking, when I see gaps between double crochet posts, it looks a bit pedestrian. It's a pet peeve of mine.
So it's an easy, HELL NO, in the filming but then someone recently just requested this pattern to be filmed. Soon as I saw it, I was like, OH NO! So I promised I would look into the pattern with extremely judgement distaste. In reaching out to Yarnspirations, it's a consistent download, so filming it would add something for Halloween in the blanket format.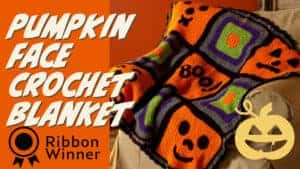 I just filmed the Pumpkin Face Crochet Blanket as that one had my stitch-curious. I've seen this blanket more this fall than ever, and I think it's because the tutorial is out there.
Back to the Candy Corn Throw. I know how to fix gaps between posts by changing the hook from a 6.5 mm / K/10.5 to a 6 mm / J/10. I also changed the yarn to Caron One Pound, thicker than Red Heart Super Saver. I was like, OH SH... these are so much cuter in person. I've been missing out all of these years!
I can be frank here. The Candy Corn Throw picture doesn't do justice in real life. These were incredibly easy, and the joining was no big deal.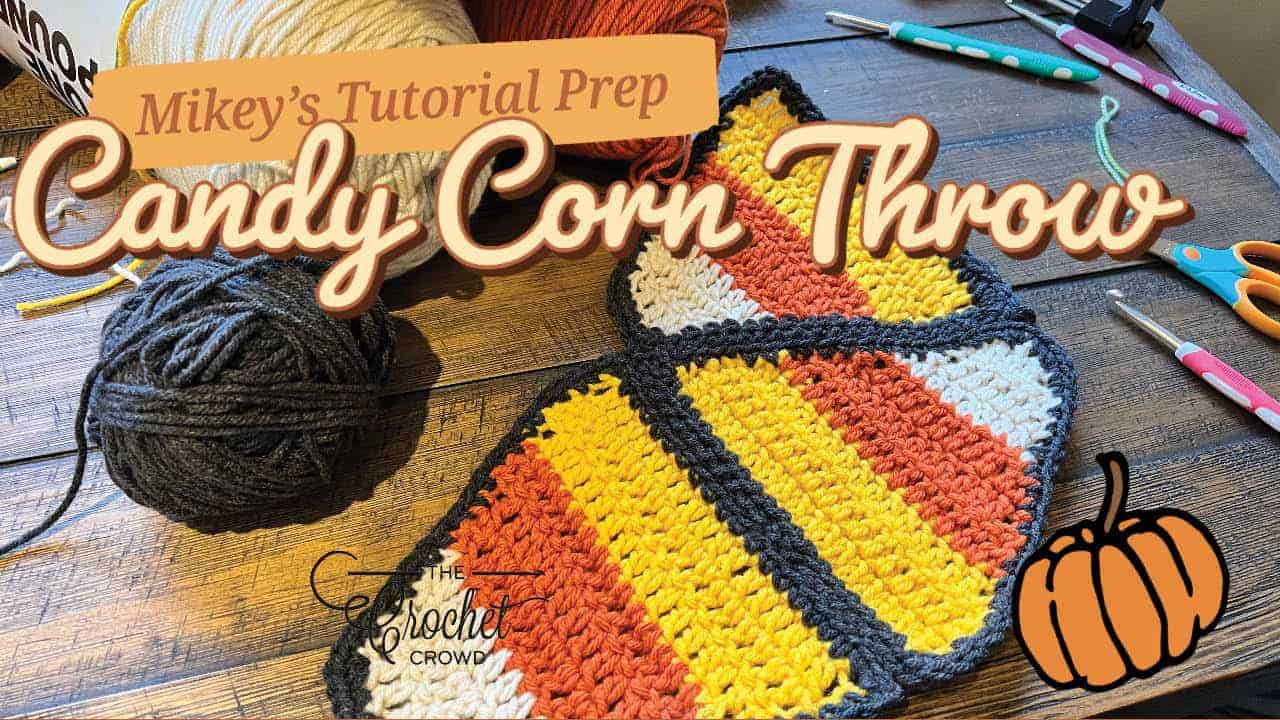 I cannot prove this, but the instructions don't say to join on the back loops, and I think, at least to me, that's the deal breaker. I cannot say for certain the original is attached that way. My join looks cleaner with the whipstitch through the back loops only. I will suggest that in the tutorial.
The border looks like a big deal, but it's not as the designer is counting stitches on each side as required, once you see how the border is done, it's the chef's kiss, and it's only one round.
I became a believer after doing the prep work. I can see people doing this. I have been too judgemental. I only want to demonstrate things that interest me, in the smallest way but something that keeps my interest. I judged this by the picture and it was a mistake. Don't tell anyone. We're friends, right!?
---
Pattern Details
Project Size: 47" x 57". You can add or subtract candy corn motifs to change the side without impacting the border info.
Gauge: Candy Corn is 6" tall x 6". Mikeys' version changed the hook down to 6 mm / J/10 but the yarn is thicker than Red Heart Super Saver and the motifs are still the correct size.
Designer: Marianne Forrestal
Stitch Multiple is not applicable.
Hook Size on Pattern: 6.5 mm / K/10.5
Yarn In Pattern: Red Heart Super Saver. Mikey used Caron One Pound in the colours of Dark Gray Mix, Sunflower, Pumpkin and Off White.
Pattern Date or Last Revision Known: August 1, 2019
Please use the pattern for details on yarn quantities, gauge and other details not listed here. This pattern may have been updated since the creation of this tutorial, and the information or presentation of the printable PDF may have been changed without notice.
---
Tutorial
---
More Halloween Patterns
No post was found with your current grid settings. You should verify if you have posts inside the current selected post type(s) and if the meta key filter is not too much restrictive.