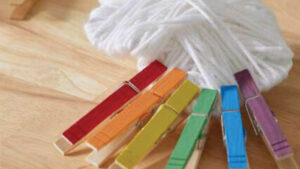 Being a step-parent for a short time in my life, I implemented craft night not just for creative development but also for family building.
My mother was such a strong influence on my creative being as a child, that I have taken it with me to adulthood and continued to enjoy the yarn arts.
I thought my mother was brilliant at the craft table, my mother knew us better than we probably realized because crafting creates many things but for her was the gateway to know who we are as kids. The key was to listen and not to react to things that may shock you but talk as a friendship.
As a child, a pregnant pause is dead air space and we felt too compelled to fill it with conversations, including singing songs.

At the time, we were involved in organized religion. My mother would write the songs of the church on construction paper. We kids would be working on simple things such as popsicle structures, learning to knit, weaving and using glue with yarn.
---
I cry when I hear this song because it's my mother and us at the table, which is the strongest memory I have as a childhood. She was our hero. And if I look up really quickly, I can see her across my desk sitting with me only to realize it's just a memory. Kids at the school used to make fun of how fat she was, but to me, was my lifeline when I was vulnerable. The craft table was the connection that I will go to the grave believing is one of the most things you can do as a parent with a child. The memories are so thick I can nearly swallow them when I hear this song.
---
As a step-parent, I wanted to bring that forward because to me, no matter what I could as a parental role, the memories of the craft table were so strong that I wanted the kids to feel the same bond. We popped the popcorn, got out the pop, pulled out the crafts and had craft nights.
I noticed the kids didn't like silence if I hadn't been talking or they had stopped. In between the praising of creativity and questioning with them on what would happen if they would try things differently. They would come up with their own ideas and I would look up from my crafts and say something, "that sounds neat, try it!"
The elephant is in the room and you don't even know it's there. It's the connection that is created at the table. 
The kids were sharing with me about their school, friends and I learned so much. One of them was coming home in a mood a lot. We didn't understand why only to learn during craft night through casual conversation that she was being forced to giveaway her lunch when she was getting onto the school bus. I didn't react but questioned why would that be happening but if I had reacted in the real-time moment, the follow-up stories that were told gave a more rounded off storyline to assist. So the craft night was the time to interact but more importantly listen. I mean really listen and watch body language. 
Yarnspirations has put together a long round-up of from the basics of crafts to crafts you can do step by step with children and friends. It's 72 Teachable Crafts.

My mother used to go to the library to find ideas for us, but in today's era, it's at your fingertips. Some of the crafts you will see are pretty big but if you were at my craft table, my mother would have worked with us on steps and times in between the craft table we would have goals to work on.
When I think back, those kids were incredibly cruel and I knew it at the time. If only they would have craft time with my mom. They would have seen her for the person she is, like really seen her. I'm the luckiest person, truly.
More Collections