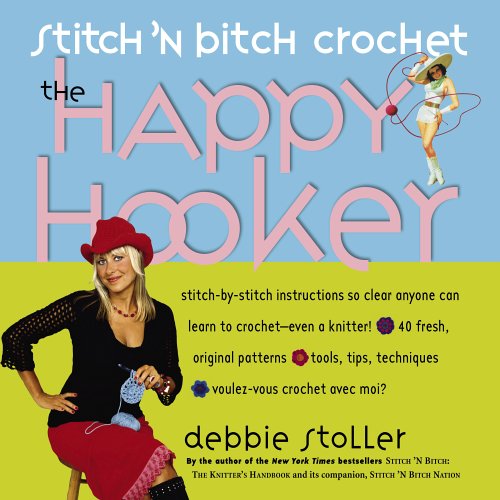 The Happy Hooker Pattern Book
Laughter… Giggles… Guilty Pleasure… are three descriptions that instantly pop into my mind when thinking of Debbie Stoller's Happy Hooker book. The name in itself lures you at the Book Store to investigate further because of the double meaning of words used on the front cover. Stitch'n Bitch is a common term amongst crafting groups as the session can be a big time gossip circle. Debbie's cover is memorable and instantly gives smiles even before opening the book. They say never judge a book by its cover, this is one of the few that truly reflects the humor inside, but more importantly, teaching you while you snicker at the double meaning of words throughout.
To me, Debbie's humor hits me in a way where I am giggling like a school girl when going through her book. She's bringing back the humor and excitement of crochet. Her book's patterns and written language will entice the younger generation to show them that fibre artistic work is fun. But for some of us old folks, it revives us to look at crochet from a different angle.
Debbie's book at the basics of crochet with excellent pictures to know what you are doing. Though she uses fun terminology throughout the book, she references the real names so that you aren't lost in a crafting show and someone is teasing you that you know a funky stitch name that no one has ever heard of.
Her patterns allow new crocheters to get involved and her more complex stuff gives challenges to "experienced hookers", as she might refer to us well seasoned crocheters.
In talking to many members of The Crochet Crowd, this book is a must own. A standing ovation from us who crochet and are looking for thrill of the fibre arts! This is one of the crowning master piece to own in your crochet pattern book library.