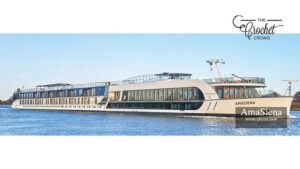 Our first ever journey as a crochet party without the conference portion of a Crochet Cruise. Departing Basel on Thursday, November 30th, 2023 for 1 week and ending in Amsterdam.
Jingle Balls - Christmas Markets On The Rhine Cruise
The small size River Cruise Ship, via Ama Waterways is the ship AmaSiena. At the time of writing this, we maxed out party out at 20 cabins but due to demand, another 20 cabins have been set aside for this journey. This means, over half of the ship will be crocheters with their friends and family. There are only 78 cabins onboard this ship.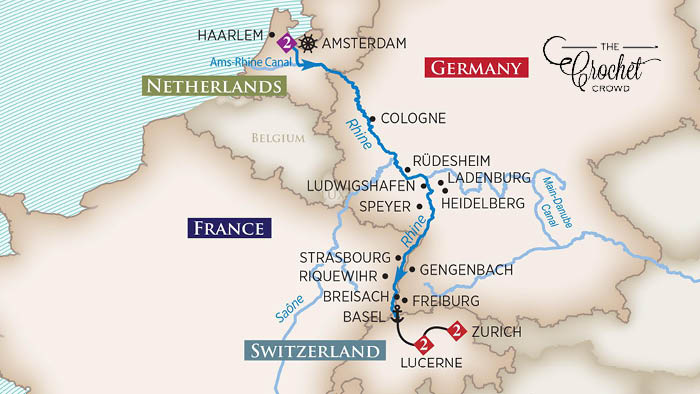 Behind the Scenes
Sherry, our agent, and Daniel have spoken together with the tour operator out in Europe for this adventure. The excursions are included in the cost of the cruise ticket. Wine/Beer during Lunch and Dinner is included in the cruise price but drinks beyond this are extra. However, you can upgrade if alcohol is something you wish to consume for a nominal fee.
Daniel and I have been to Europe during Christmas and it is really special. The Christmas Markets are really unique but the extra excursions that will be provided will give you that up close and personal moments while there.
See a Sneak Preview
This is Not A Crochet Cruise
This is not a cruise where we will be bringing yarn or planning workshops. This is a group event of travelling as crocheters through Europe. People with us who are like-minded but also creative thinking. I am sure us crocheters will be up at Sunrise and close the ship at night. There are places on the ship to sit back, relax and crochet. So bring your own yarn and requests the tour operator is to locate yarn shops along the journey.
We will most likely have loosely planned things like a Christmas Ugly Sweater Night and other things that are potentially planned on board. Sherry will work with the cruise ship to see what we can do. This is unlike a major cruise ship and the ship is flexible.
Seeing this not a crochet cruise like our typical format, there is no extra fee for activities being applied.
Mobility Issues
This is Europe and we will be visiting many old cities such as Basel, Breisach, Strasbourg, Ludwigshafen, Rudesheim, Lahnstein, Cologne and Amsterdam. You should expect uneven streets, cobblestones and steps. There is an elevator in the small ship if you need it. Many tours may involve walking or using steps, please keep this in mind. Of course, you can opt-out to not do the excursions but it is already included in your ticket. You do not get any partial refunds for excursions you wish to opt-out of.
Booking Deposit
Sherry has arranged special group pricing for this event. The special pricing voids any refunds for the deposit. Be sure you make sure before you book. It is $500 USD per person if 2 people cabin. If you are intending on traveling alone in your cabin, it is $1000 USD.
Final Notes
This is a luxury cruise with your hotel moving with you through Europe. The rocking of the ship is minimal, you may not feel it at all due to cruising the river and not experiencing oceanic waves.
The ship has limited sizing cabins in various levels of luxury. It will be cold outside so it's time to crochet those hats and scarves to wear. It's magical to experience if you haven't ever before.
Please book with our agent so you are kept together as a group with the activities and notifications we will have leading up to this amazing adventure.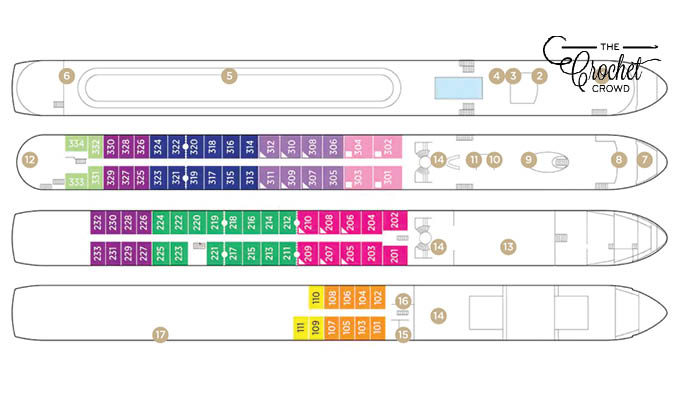 Next Step
We have multi-levels of cabins being held for our party. We have a maximum of 40 cabins that we are allowed on the ship. If you need 3 people per cabin, the only cabins that can do that are AB and Suites. You are best to book as fast as possible to lock in your cabin and cruise price.
You will notice pre-cruise extras you can do as well. You are responsible to get yourself to the departure location and get yourself home at the end of the adventure.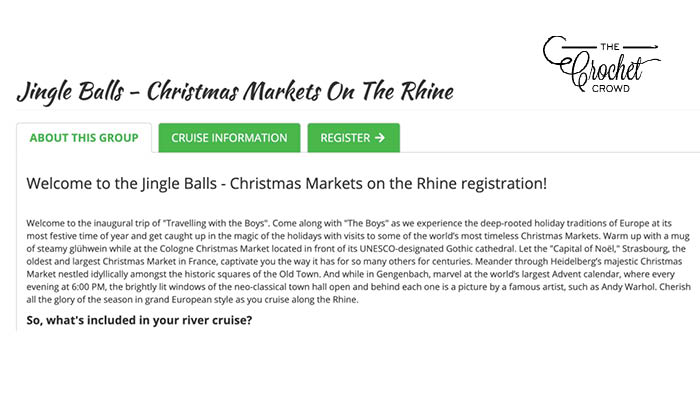 Sherry will contact you upon you filling out the form to talk to you over the phone prior to charging your credit card for the booking.
Once Booked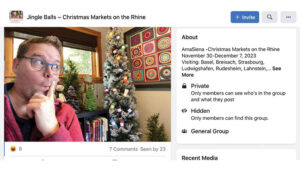 You will be invited to join our private Facebook Group that is booked for guests only. You can request family members to also be invited. Any communications with us and/or our agent are usually done there. Also, you can meet who else is travelling with us so you are travelling amongst friends by the time our event comes.
We know this is a luxury event or trip for many. Usually in December is the only time we can take time off for ourselves.