Come Travel With The Boys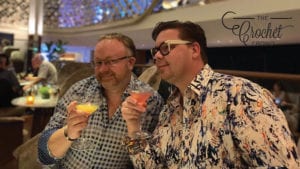 Crochet Cruises, developed in 2013, has been 'Hook'n The High Seas' since our inaugural crochet cruise in 2014. Dedicated to 2 – 3 crochet cruises a year hosted by Michael Sellick & Daniel Zondervan, aka Mikey & Diva Dan from The Crochet Crowd.
In collaboration with Sherry Leybovich, franchise owner of Cruise Planners™ based in Florida as our partner in the event planning. The Crochet Cruises has become a staple event travel dedicated to the art of crochet and, more importantly, the crochet community for an extended travel vacation.
---
Mission & Goal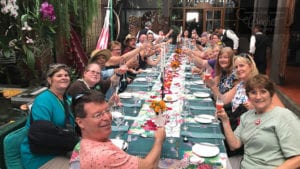 To educate, challenge and explore creativity through the art of crochet with Mikey and The Crochet Crowd by combining enjoyment, relationships, skill-building and connective community while hook'n on the high seas.
To give our virtual online community a real-time opportunity to meet the socialite of the crochet world, Mikey, by allowing them to explore yarns, patterns, stitches and ideas. Giving cruisers the joys of meeting new friends that would not have been possible through the world of social media alone.
---
Our Next Crochet Cruises
Pick a cruise to learn more. You can do back-to-back options of staying on board for the first cruise and continuing on to the second cruise with us for the finale. Both cruises in February 2022 are sold out. 
These two cruises will retire our Crochet Cruises and move to a new format starting in 2023.
---
Travel with The Boys
Click on the adventure to learn more about it, see pricing and/or book the event. You will be forwarded to our agent's booking page where you can learn more details. Please note, the activity fee that was charged for the Crochet Cruises is no longer required as this is a less formal and more relaxing travel arrangement.
Australian Outback Adventure
Sydney to New Zeland Cruise
Christmas on the Rhine River in Europe
---
Agent Contact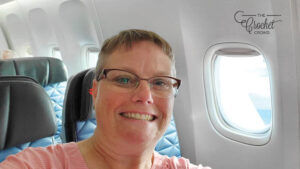 Sherry Leybovich ECCS, LCS, CTA. Sherry is in Florida & works on Eastern Standard Time Hours.
Toll Free 888-464-1827 ext 101
Local (Florida), 813-657-0844, fax 813-657-0854
---