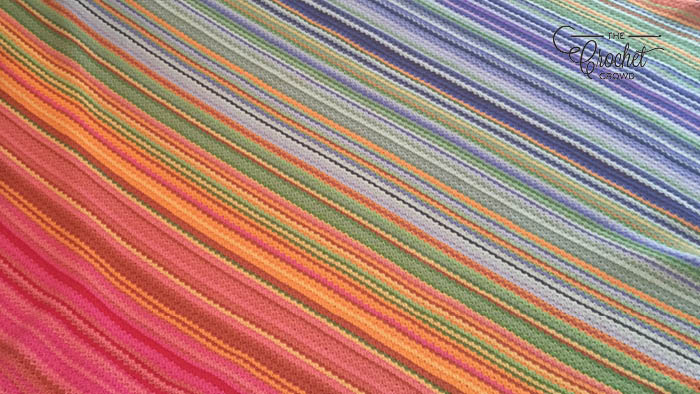 Where Do You Find the Weather Temperature Readings?
Remembering to view the temperatures when life gets in the way is a strong factor for crocheters not to finish their afghans. Luckily, there is at least one website called VisualCrossing.com as a resource to look back into the past.
Below will be 4 examples of crocheters who belong to The Crochet Crowd with their approaches.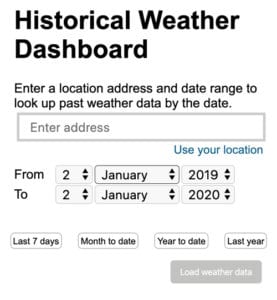 Don't Over Complicate Your Afghan
When talking about this, in theory, crocheters get the ideas to also do the highs and lows plus even for any rain or snow. Pick an element that you know you are comfortable with. Adding 2 or more other factors sounds great now, but in a month from now, will you regret it or will the project already be collecting dust.
How to Use Visual Crossing Website
Firstly, it's free if you don't download anything. But you can observe and take your notes or screenshots.
Example:
Once you enter in your location, set the time frame to be one year by changing the date.
You will see the normal, highs and lows. The grey is the actual temperature. You have to decide where on each day to get the temperature.
Use this overall picture to see how low and high you want to go temperature-wise.
This will give you an idea of how many colours you can break your afghan into.
Below are 4 Year Outlooks for the weather. One for Indiana, USA, Nova Scotia Canada, Phoenix Arizona and Sydney Australia. Notice that each of our weather scales are different. For example, Sydney is considered backwards in the heat scale as it's in the Southern Hemisphere or we are considered backwards to them.
Example from Indiana where Jeanne Lives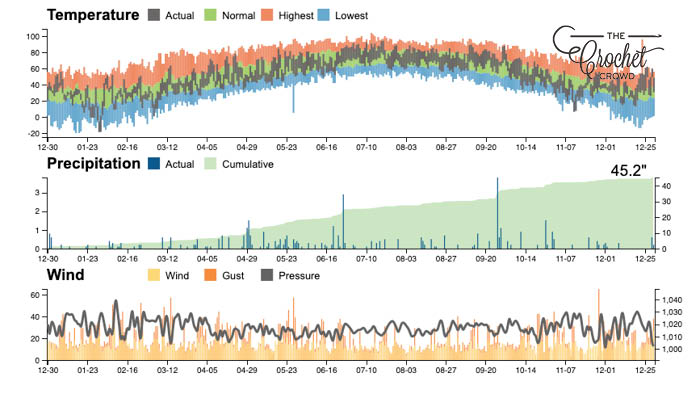 Example of Nova Scotia Canada, Where Mikey Lives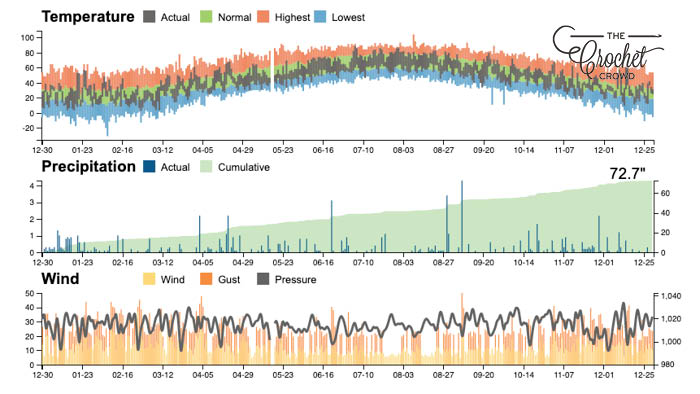 Example of Phoenix Arizona where my friend Diann Lives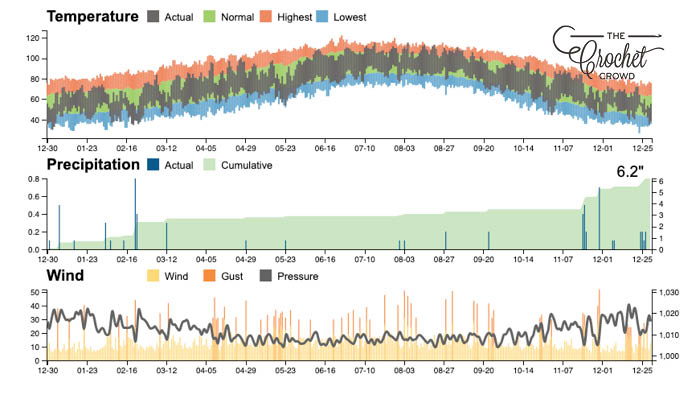 Example of Sydney Australia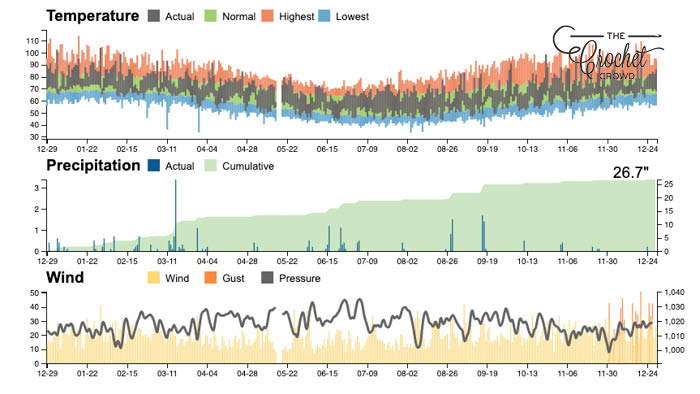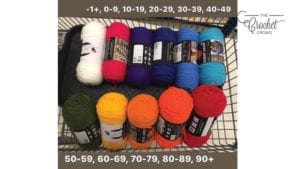 Breaking Up Colours
Mallory White has gone shopping and decided on the colours while in the shopping cart. She then took a photo and then marked on the photo the representation of each of the colour ranges for the weather.
For areas like Arizona where the temperature hovers for months at a time in the same general area, those crocheters may need to break up the temperature between 5-degree increments so the afghan doesn't appear to be the same colour for a large section of the afghan.
Isolating Data
Once you know the general scale of the entire colour pallet, you can zoom in and see a closer look at the temperatures. You want to know the ACTUAL. Select a temperature within the actual range. It could be the highest, lowest or right in the middle. You decide.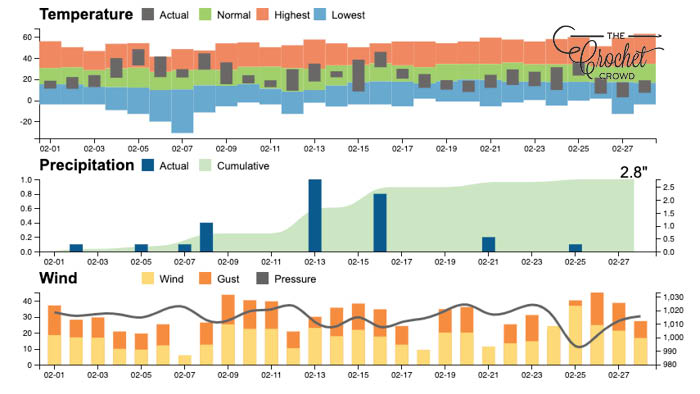 You can look and make your notes. If you need to download anything, it will require you to have a membership. Your call on what you want to do.
Let's View Some Examples
Jenny and Her Sister
Jenny and her sister both did a temperature afghan in the same year. Jenny lives in Arizona while her sister lives in northern Michigan. You can see, both of their afghans are very different based on climate.
The blankets were 80" x 80" using single crochet with a 5.5 mm / I Hook. There is 300 sts across. Jenny said, "Temperatures used were the high temperature, except in some cases where the high temp occurred for a short time overnight, so I chose the temperature range it was most of the day."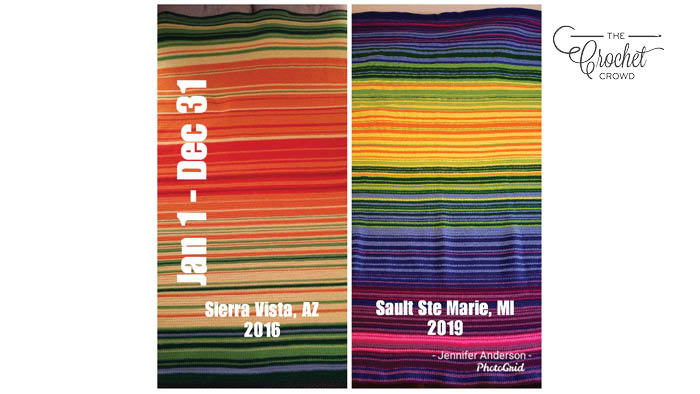 They also recorded a colour chart so both of them would follow the same colour spectrum. They have shared that with us below. You can change your temperature scale that best suits you.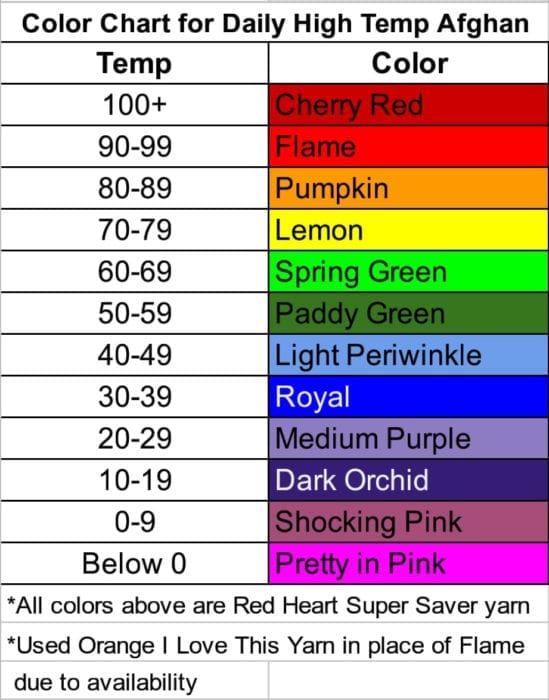 Kristen
Kristen did a gorgeous C2C (Corner to Corner) Memory Temperature Afghan leading up to the year of her best friend's wedding. It started July 9, 2015, to July 8, 2016. You see, you can start a temperature afghan at any time.
Living in West Virginia she selected colours that made sense for her region. She used HDC instead of DC for her C2C which reduced the size to be more manageable.
She broke the temperature into 5-degree intervals and you really can see with the Caron Simply Soft colours, the breaking down of the range more narrowly produces incredible stripes.
Kristen says, "It's a good size for two people to snuggle under."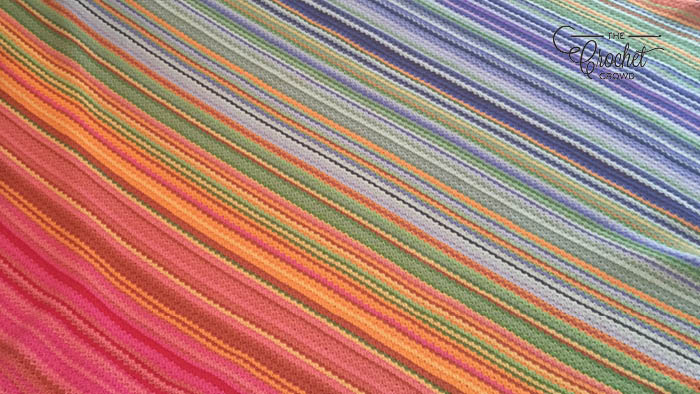 M.J.
I could stare at this for a long time. The thought process is more than just temperature in this one. M.J. really thought about what is meaningful.
Using 12 colours of Paton's Classic Wool with 10-degree increments of temperature, she thought about snow. The white in the blanket is the days it snowed. Also, you will see variegated black swirls in this, those are birthdays that she felt worthy to be in her afghan.
She used Let's Twirl by Felted Button as her pattern. The swirls are lined up by the date.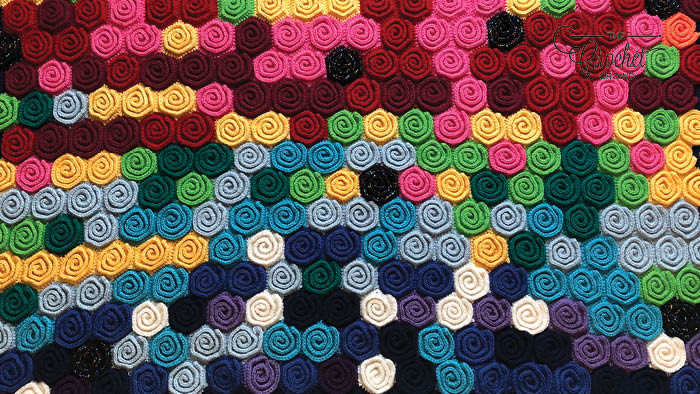 Lori
Lori also did a colour breakdown for her temperature afghan. I'm unsure of where she lives but there is certainly a lot of blue in this photo.