A generous portion of pasta mixed with in-season things from the Wolfville Farmer's Market. Lunch for two featuring ingredients that are short-lived here in Nova Scotia.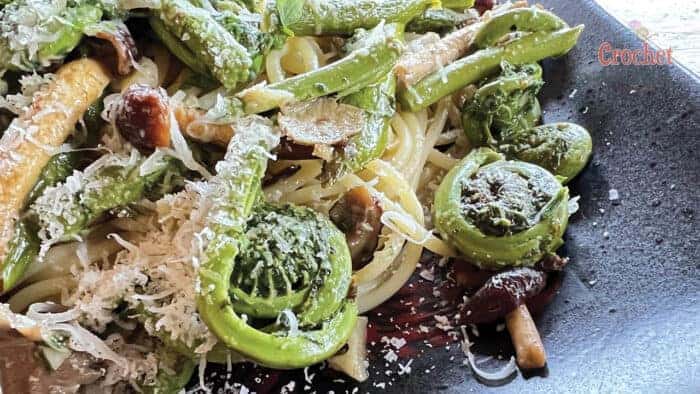 Fiddleheads are a brief timeframe of the ferns in the shaded areas in Nova Scotia. The ferns are fresh out and not big enough to open to turn into a fern. With our permission, we have a gentleman that comes on our lot to forage for fiddleheads.
Chef Shawn shows how to harvest them. If you harvest too many from one plant, you are at risk of ruining the plant. Once they uncoil and open up, the ferns become poisonous. The tighter the coil, the better.
The plant needs its ferns to survive, as you are essentially ending the life of the fiddlehead leaf it's about to grow. You have to harvest responsibly. The guy who comes here is usually here for several hours and takes just a few strawberry quart-size containers. Daniel loves the ferns for the shaded areas, but a couple or so missing from each plant will be okay.
Fiddleheads, probably for our southern friends, are most likely already past their prime to be able to enjoy this year.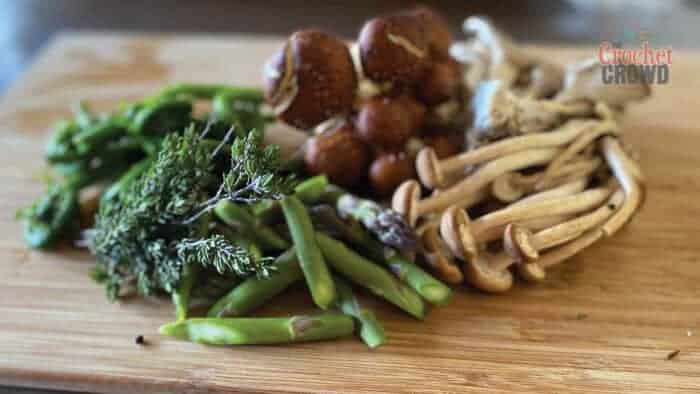 We get mushrooms from Feeney's Fungi Farm, which is local to us. Check out their Instagram for the variations and how they grow them.
Daniel's dish is a mix of pre-made pasta from the Super Store. And mixed with an assortment of ingredients that were picked up.
Daniel pre-cooked the asparagus and fiddleheads with garlic, fresh thyme and butter sauteed together.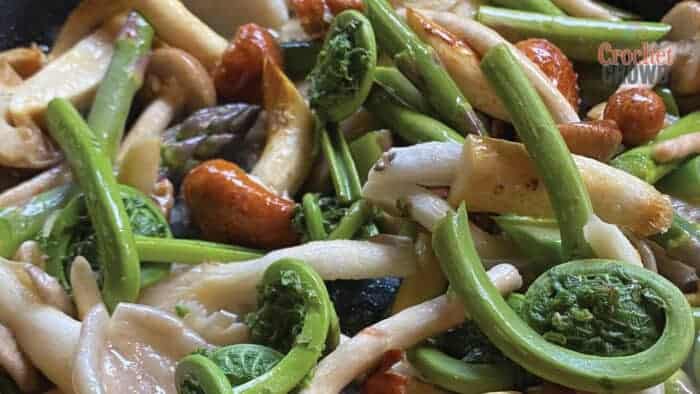 Spread across a bed of boiled pasta and generously sprinkled with parmesan cheese and parsley.