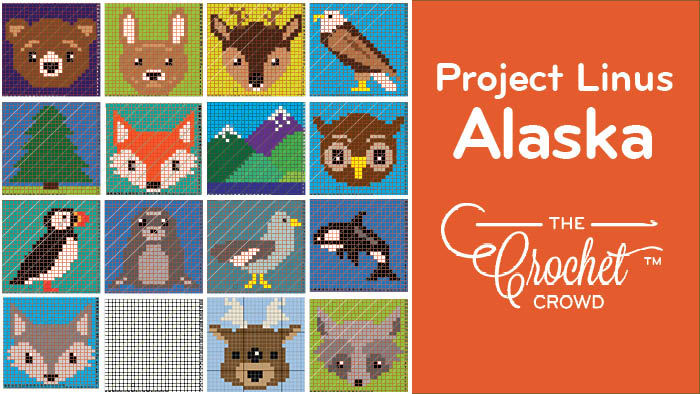 Crochet Project Linus Squares for Alaskan Crochet Cruise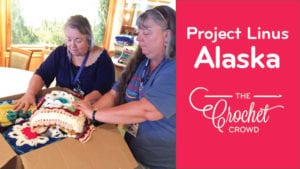 Assignment Crochet Cruise Alaska for June 2018
Since 2014, we have demonstrated the need for charity on our Crochet Cruises Conference Program. Crochet Cruise Alaska is known as the Nautical Twilight Crochet Cruise. By the time this cruise rolls around, we will be on our 11th Crochet Cruise.
Supporting Project Linus isn't a want… it's a MUST! We must take some time on the cruise to help others! It's our personal belief that we are fortunate to travel and infuse our vacations with crochet. In fact, we have strong support with JOANN Fabrics and Crafts in our mission to help others. 
If you are traveling with us, you will included in the next run of Project Linus Presentation. Whether you travel with us or get involved in charity near you, helping others is so important.
This cruise will be benefiting children in the Seattle, Washington.
We are NOT COLLECTING AFGHANS to take on the cruise, this assignment is for the Crochet Cruisers to bring completed squares with them. We will have approximately 150 afghans done by the end of this cruise. If everyone brings 4 squares, we will have 130 afghans easily. I know others are making more than they need to which benefit the children.
Arrangements have been made to meet a Project Linus Representative at the end of the cruise at the cruise terminal to hand deliver these afghans.
Be the Difference
Your Assignment
You can either do solid or striped C2C Squares. Or you can make them more fun for kids by using Daniel's themed squares. We have included a self-design square for you. The solid/stripe squares will match the sizing of the themed squares so they can be mixed with each other.
Complete 4 squares minimum. You can do more to benefit Project Linus.
You can do 4 completely identical squares if you wish. You are exchanging them on the ship.
These squares are 20.5″ x 20.5″ without border. With added required border, they are 22″ x 22″.
Don't worry about your tension too much. We each crochet differently, so if your squares are a bit bigger or smaller, other crocheters in the workshop will match your tension. 
Click the Picture to get the Graph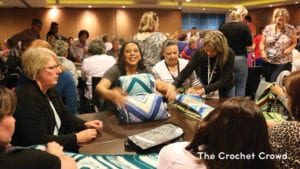 Suggested Hook
5.5 mm or I Crochet Hook.
Yarn Suggestions
Use 100% Acrylic Yarns.
4 Ply Worsted Yarns like Caron One Pound, Bernat Super Value, Caron Simply Soft and etc.
Use any colours you wish.
You can do solid colours
You can do the characters above or design your own square. Just stick to our box dimensions of 26 x 26.
For automatic stripes from 'cake like' yarns, use Bernat POP!, Caron Big Cakes and Caron Baby Cakes and etc. These are 100% Acrylic.
Do not use anything eyelash based like Bernat Boa.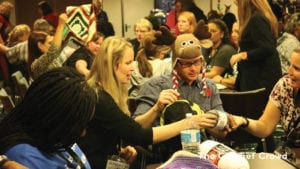 The Size of Squares
26 boxes wide x 26 boxes high without border.
20.5″ x 20.5″ without border.
22″ x 22″ with border.
Please Do The Borders
Sewing or attaching C2C's together look like crap if the colours don't match up. JOANN Fabrics and Crafts are supplying community yarn but are asking you to put borders on your C2C Squares. This will allow us to attach our squares together without worry of yarns not matching.
Please use strictly white. Do not use off-white, vintage white or beige. Just white. Instructions for the borders are on each of the examples.
You can see the difference a border makes. So please do the borders for each of your squares so when you exchange them, another crocheter has a fresh edge to start with.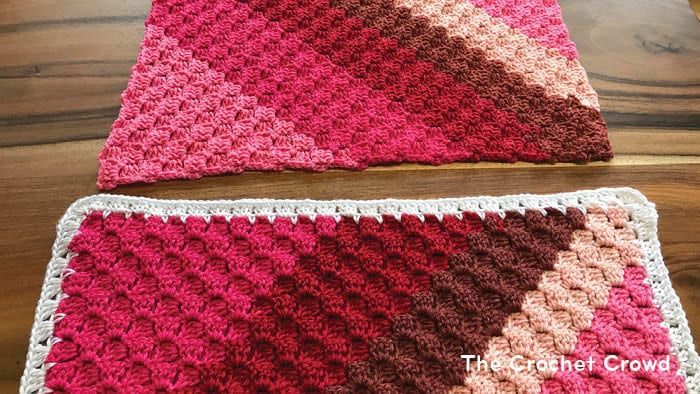 Tension Control
On the ship, each of us crochet slightly different, squares will be checked and placed in a pile specific to your tension. There are usually 3 different piles from tight tension, loose tension and just right. So don't worry about the squares. There are others who crochet to the tension like you do.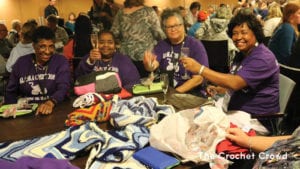 On Ship – 2 Square Exchanges
For this ship, we have two options for exchanging squares. Remember, these squares are for kids, the funner you make them, the more they are loved.
You can do a split of solid and pictorial squares if you wish.
Square Exchange 1
For those who do solid and striped C2C squares, you can switch with others who have done the same style of square.
Square Exchange 2
For those who are more advanced and have challenged yourself to make character or pictorial C2C squares, you can switch with others who have done the same type of square.
It is expected the character squares will be very popular and we feel it's fair that if took the time to make a character square, you have the opportunity to exchange with others who did one too.