Crochet Hooded Blankets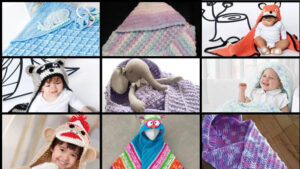 There is nothing better than swaddling a baby in a crocheted hooded blanket.  Having a hood attached just makes that swaddle so much easier.  When the babies grow into toddler size, they really enjoy snuggling themselves into these fun and colourful blankets as they slip into the magical world of pretend.
I have found some really fun patterns to get your own creativity and imagination started.
---
Crochet Like A Fox Hooded Baby Blanket
Melanie Ham has an amazing tutorial featuring the Fox Hooded Blanket. Follow along with her on this video. Get the free pattern called Like a Fox Blanket with Hood.

---
Crochet Baby of Mine Hooded Blanket
Mikey has a hooded baby blanket called Crochet Baby of Mine Blanket. Easy texture with concepts for doing the hood either on the side edge or a corner. You can leave off the hood and just have a beautiful textured baby blanket.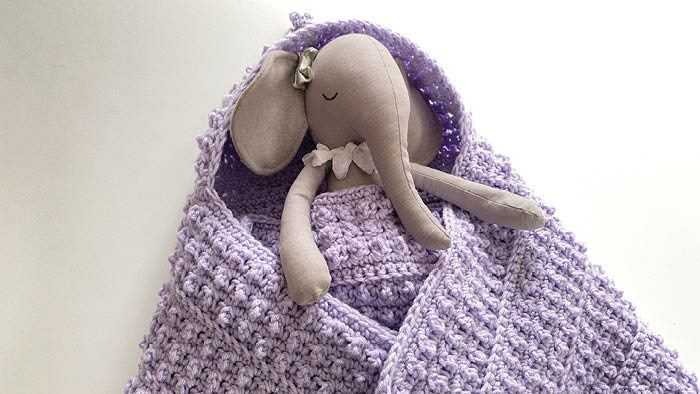 ---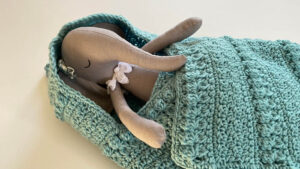 If you are interested in the cousin of this blanket. This is the Crochet XYZ Hooded Baby Blanket.
It's 36" x 36" with an optional hood to the centre of the side of the blanket. It has clusters, houndstooth stitch and single crochets that make up this visually textured blanket. The main blanket looks good on both sides as there is no good or bad side to the blanket.

---
Free Patterns
Lil' Bandit Blanket Crochet Hooded Blanket by Yarnspirations

Hooded Towel - adorable owl hood is featured on this pattern from Snappy Tots.

Dino Baby Hooded Blanket - dino spikes run from the hood down the back for a fun look.
Blanket with Hood - Using Bernat Pipsqueak for softness.
Sock Monkey Blanket - need I say more. 😉
Like a Fox Blanket - this is so fun worked up in Bernat Softee Chunky.
Baby Popcorn Afghan - the texture is so lovely on this special project.
Hooded Diagonal Blanket - the ever-popular C2C with a hood in the corner.
Snail Blanket - A cute hooded blanket with a snail applique to keep the baby warm.
Lion Baby Bath Wrap - cute ears and a lion mane dress up the hood on this fun piece.
Hooded Bobble Baby Blanket - A baby blanket with texture with hood.
Hooded Wrap Blanket - this is for the biggie kids and perfect for those outdoor sporting events.
Lil' Bandit Blanket - a cozy companion blanket, this raccoon themed blanket is sure to be a hit with the little ones.
Promises Rainbow Baby Sleep Sack - hood is included in this cheerful crochet pattern.
Envelope Baby Sleep Sack with Hood - wrap the little one up for a cozy nap.
Retro Hooded Baby Cocoon - Many free patterns are included with this one pattern.
Monster Hooded Blanket - Colourful and super cute.
Hooded Baby Blanket - slow striping yarn will be perfect for this one.
Cozy Hooded Blanket - this yarn is discontinued, but substitute with any other nice baby yarn.
Hooded Baby Blanket - super quick with Bernat Big Blanket yarn and designed by our own Mikey.
Paid Patterns But Oh So Cute!
Like a Fox Crocheted Hooded Blanket by Yarnspirations

Oh So Soft Hooded Towel/Blanket - I've made tons of the matching washcloths and really are oh so soft.

Penguin Hooded Baby Towel - because I know there will be a few penguin lovers that will want this one.
Plutonian Paul Hooded Blanket - an awesome alien monster with a chevron blanket.
Unicorn Hooded Wrap - May all your wishes come true.
Bear Hooded Blanket - Thick and quick.
Owl You Need is Hugs Hood Blanket - another fun owl design with soft, chunky yarn.
More Crochet Collections to Enjoy