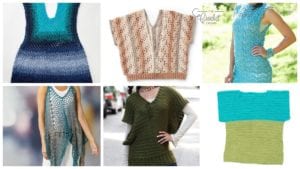 Crochet Tunic Patterns
It's that time of year I look forward to when the days are getting longer and I know that warm weather is coming. Now is when you start looking to freshen up your summer wardrobe with the yarn stash and the wonderful patterns, we have available to us the ability to create something new is as easy as looking here. The added perk to making your own tunics is unlike the stores you can actually make them fit the way you like! I like my tops longer if the patterns aren't already long enough it's so easy to add length that I'm looking for. Most patterns have a wide variety of sizes and if you're like me you enjoy the comfort of the added room. I know a few of these tops will be making it on my hook and into my closet for this summer!
---
Crochet Summer Breeze Top Pattern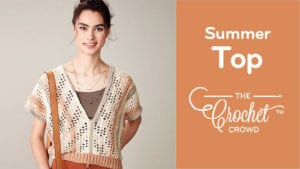 I have seen this Crochet Summer Breeze Top made up at Mikey's studio it is a favourite of us girls for sure. I know I'm not the only one who wants to make this one up it's really cute, although for mine I plan to make it longer where I prefer length to my tops.
The Summer breeze Top is made with the Caron Cotton Cakes it's one of my favourite yarns to use, I love the colours and it works up so lovely. The top is worked in 2 panels that you seam together making it so easy you'll be wanting to make a few colours, variety is the spice of life!

---
Crochet Not-So-Granny Tunic Pattern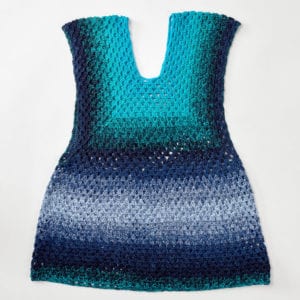 I'm obsessed with this Crochet Not-So-Granny Tunic Pattern! The Granny is one of my favourites to make so a top using that pattern makes me pretty happy. The colour they used in this pattern has me pretty excited too, although let's be real I'm likely going to attempt one in Cotton Cakes as well.
Designed by Rohn Strong this wonderful addition to anyone closet is made using Red Heart It's A Wrap Rainbow. With a pair of black leggings, this top will look wonderful! As with the Summer Breeze Top, this comes in multiple sizes and because of the way it's made it's really easy to change the length for those of us who would like it longer.

---
Crochet Tunic Pattern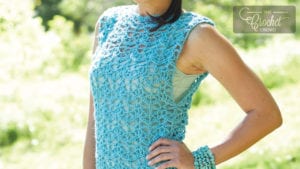 This simple yet very pretty Crochet Tunic Pattern is very elegant. You could very easily dress it up if you have a function you are going to and want something cool yet pretty to wear.
The Crochet Tunic is made using Simply Soft Light, I personally haven't worked with this yarn I haven't seen it here, but from what I see it looks pretty so when those of you who have access to this yarn make sure to post photos for me to see!! This pattern has sizes from small to 5x can't wait to see all the colours!

---
Crochet Lunar Tunic Pattern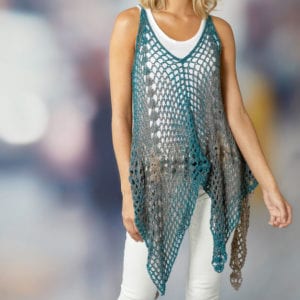 I'm not sure what it is that draws me to this Crochet Lunar Tunic Pattern. It's just so flowy and pretty. Or it could be that it reminds me of a granny square version that I like just made in a different colour. This would make a lovely top as well as something a little different for a  bathing suit coverup.
Designed by Kristi Simpson the Lunar Tunic is made using Red Heart It's A Wrap Rainbow. Those colours are so pretty this top would look charming in any of the colour choices.
Like the Crochet Granny's Hankie Tank Pattern this pattern is made up of four squares and assembled to create the top. Keep in mind if you choose to use a different yarn, for example, the Cotton Cakes, it will alter the final size making it larger and you would have to adjust your hook size accordingly.

---
Crochet V-Topper Pattern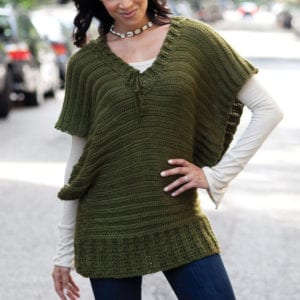 The Crochet V-Topper Pattern is great for chilly days or days you want to wear something a little more on the cozy side and less flowy or airy. I really like the look of this top it has a hood which is fun, it reminds me of an elvish top which could be part of the reason it appeals to me.
Designed by Vickie Howell. She made this V-Topper tunic using Caron International Simply Soft, but in her pattern, she has a list of other yarns you could easily use alternatively giving you all kinds of different colour options you can play with.
The others are designed using 2 pieces seamed together, this V-Topper tunic is made in once piece, for up to size 3x.

---
Crochet Colourblock Top Pattern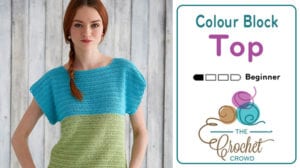 This beginner-friendly top is where we end this collection Made using Patons Grace you can have fun playing with all kinds of different colour combinations for this Crochet ColorBlock Top Pattern or you can try using just one colour, so very many options for this top so little time.
This pattern is written for sizes extra small to 5x. This is what I love with all these patterns there are so many different size options taking out a lot of guesswork and you don't have to go hunting ten different stores trying to find your size, You can pick your favourite colours and make your favourites in your size making adjustments as you need to fit your likes as well as sizes!