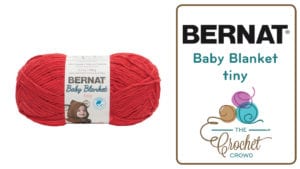 What To Do with Bernat Blanket Tiny Yarn
Man I cannot express my love enough for this Bernat Blanket Tiny Yarn that is new for 2017. If you have enjoyed worked with Bernat Blanket Yarns, you may just fall in love with Bernat Blanket Tiny.
For some of us, the movement of the large regular Bernat Blanket Yarn can be a bit stressful on the wrists due to the thickness. For others, it's not problem at all. Bernat Blanket Tiny comes to the rescue to give you the look and feel of Bernat Blanket Yarn but without the heavy bulk associated to it.
It feels light as air and I am so shocked on how far one ball of yarn will go with a crochet project. The ball size is deceptive to thinking there is not a lot of yarn but in fact, it feels like the ball goes on forever and ever.
Currently, I am working on a blanket blanket. I wish I would have done it for me instead. It is a dream to crochet and so soft. It's like holding a cloud suspended on my crochet hook.
The colour story of the yarn is fantastic. I'm generally not a fan of quick variegated yarns. You know, they don't stay the colour for long before changing. However, in this particular yarn and I am unsure what it is, it just looks ultra fabulous. I need to hurry up and finish my baby blanket and get you a free pattern.
Coming in summer 2017 will be a crochet series, hosted by yours truly, for baby / toddler size clothing using this yarn. I have included the current colour line up for you to see below. Which one is your favourite colour? I'm currently working with Polar Bear and Leap Frog together. Looks phenomenal.
Yarn Story
Bernat Maker Fashion is a soft and chunky tubular yarn that stitches up quickly, perfect for fashion projects for all seasons. Available in 8 versatile shades. Machine washable and dryable for easy care.
Content: 100% Polyester
Ball Size – 100g / 3.5 oz, 316 yards / 288 m
Care: Machine Wash and Dry
Gauge: 4 – Medium Weight
Knitting Gauge: 18 sts and 24 rows with a 4 mm (U.S. 6) knitting needle
Crochet Gauge: 15 sc and 16 rows with a 4 mm (U.S. G/6) crochet hook
Use for: Fashion clothing, blankets and accessories target for children.
Gallery
Click on the pictures below to get the free patterns.
More Bernat Yarn Brands
No post was found with your current grid settings. You should verify if you have posts inside the current selected post type(s) and if the meta key filter is not too much restrictive.